Why Locaweb, DGF and HiPartners invested within the "Google of company indicators"
Looqbox has developed a solution that answers the main questions of companies like a Google search. With that, it conquered Via, Magalu, Americanas and many other companies. Now, it receives its first institutional contribution
In 2012, entrepreneur Rodrigo Murta, a master of quantum physics but a programmer by aptitude, was working on a project with the St. March that involved store supply and data intelligence. "One difficulty I felt was how to access data easily," says Murta.
That's how the idea of ​​Looqbox came about, a startup that has a solution that is a kind of "Google of corporate indicators" that Rodrigo founded with his brother Daniel. The comparison is no exaggeration. The company plugs corporate data from a company's various systems into its system and answers users' questions in a Google-like search box. "It's something as simple as 'Google'", says Rodrigo.
Ten years after Murta came up with the idea – and 35 big clients like Via, Americanas, Embraer, Santander, Magazine Luiza, C&C, C&A, Fleury and, of course, St. Marche – Looqbox is receiving its first institutional check, in a round of BRL 15 million led by DGF Investimentos, with the participation of the corporate venture fund of Locaweb and HiPartners.
The resources will be used on two fronts. The first is the evolution of the Plug & Ask technology, which makes it possible to implement the solution in a few minutes, integrating the company's various databases – which can range from ERP to information from HR employees. "The product has a simple interface and anyone within the organization can access it to make a decision", says Frederico Greve, partner at DGF Investimentos.
The second front is building a sales and marketing machine to scale the solution and customers. "We are betting on the combination of these factors to accelerate the expansion of the solution in the market in 2023 and prepare the ground for larger flights outside Brazil", says Rodrigo.
The Locaweb entry has exactly that purpose. The company, which is worth R$6.4 billion, has a corporate venture capital fund with R$100 million to invest and has already invested in four startups. It has hundreds of thousands of customers who could be potential LooqBox 'prospects'.
Rodrigo knows that his tool, which answers questions ranging from employees' sales target to sales projection and financial data, is not a solution for very small companies. "But Locaweb can help us in technology and in the small enterprise, companies with 30 to 50 users."
In the case of HiPartners, a fund that invests in retailtechs and whose partners are Walter Sabini Jr., Eduardo Terra, Alberto Serrentino and Germán Quiroga, all professionals with extensive experience in the retail market, the idea is to open more doors in this area. "On Google, you find data from all over the world. And in companies, it is difficult to find something basic", says Sabini Jr. "They democratize corporate data."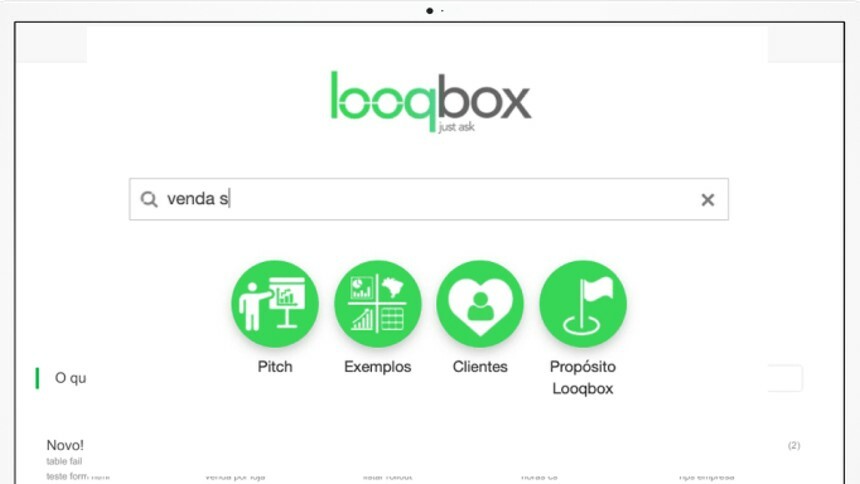 Via, owner of the Casas Bahia and Ponto brands, is an example. Today, Looqbox's solution is used by 25,000 people in the retail chain, from corporate executives to salespeople, who can track their sales goals by searching the tool through cell phones and desktops as if they were asking Google.
Because it is easy to scale, Looqbox's main business model is based on paying a monthly fee per user that accesses the system. The startup also has another source of revenue, through consulting that organizes company data.
The potential of this market is gigantic. The use of data in Brazil is expected to generate BRL 14.9 billion in 2022, with most of the resources destined for the acquisition of big data and analytics solutions, such as those of Looqbox, according to a survey by the Brazilian Association of Software Companies (Abes ), in partnership with the American consultancy IDC.
With 55 employees, Looqbox has so far survived without capital from institutional investors and has grown an average of 40% a year. The company generates cash, is financially balanced and has obtained support from some angel investors, such as Paulo Veras, the founder of the 99 app, the first Brazilian unicorn.
The company's first major contract was precisely with Via, which made an advance of funds for a three-year contract, which guaranteed the money needed for the company to invest in the product and at the same time grow.
Amid the capital liquidity that irrigated several startups with millionaire contributions throughout 2020 and 2021, the fact that LooqBox follows bootstrap was seen in the market as a bad thing. "Today, it is an advantage", says Rodrigo. Greve, from the DGF, agrees. "It is a very efficient business from the capital point of view and very scalable. And that grow without any investor rights."
Source: Neofeed