WEG declares acquisition of Movement Management
THE WEG (WEGE3) announced the acquisition of Italian Motion Control from Gefran for 23 million euros.
The acquired company manufactures sensors, components and industrial automation equipment, and is a traditional company in the automation and technological innovation industry, founded in 1960 and listed on the Italian stock exchange (Borsa Italiana: GE).
He also said that Gefran is divided into three business units, namely Motion Control, Automation Components and Sensors.
He added that this transaction is focused on the acquisition of the Motion Control business unit, responsible for the development and production of a complete line of frequency inverters, direct current converters and special applications of servo drives.
"With a team of approximately 180 employees and factories in Italy, Germany, China and India, the Motion Control unit has customers and operations in more than 70 countries", he highlighted.
He added: "In 2021 its net income was €44.8 million, and the consolidation of the transaction is subject to the fulfillment of certain conditions precedent, among which the approval by European regulatory authorities."
Weg (WEGE3) 2Q22 profit
Weg is a company headquartered in Jaraguá do Sul (SC) and has units around the world. The company recorded net income of R$ 912.6 million in the second quarter of 2022 (2Q22), a decrease of about 19.5% compared to the same period of the previous year.
EBITDA for the period reached R$1,256.7 million, 9.8% lower than in 2Q21 and 1.9% higher than in 1Q22, while the EBITDA margin of 17.5% was 6.7 percentage points lower than in 2Q21 and 0.6 percentage point lower than the previous quarter.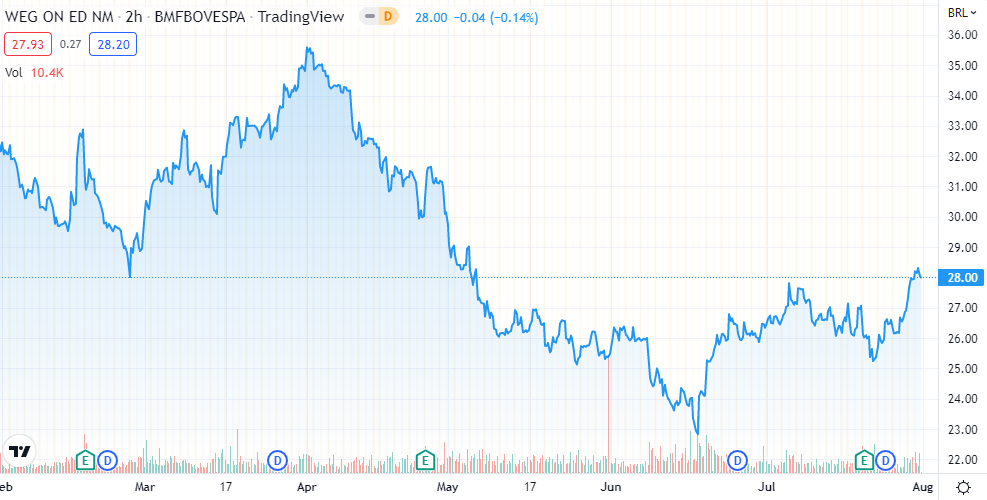 Source: euqueroinvestir.com