Variations between black and white entrepreneurs had been accentuated with the Covid-19 pandemic
The Covid-19 pandemic has exacerbated the differences that already separated the realities of white and black entrepreneurs. In the month that marks the fight against racism and the reduction of inequalities that affect this population group, a study by Sebrae shows that the percentage of black entrepreneurs among economically active adults has dropped and that they are being motivated to open a business – in most of them–by necessity. In addition, the survey reveals that the differences in remuneration and education between these two groups were accentuated between 2018 and 2021.
A comparison between data from the GEM (Global Entrepreneurship Monitor) surveys, carried out annually by Sebrae, shows that, in 2018, the rate of entrepreneurship among blacks was 40%; already in 2021, it was reduced to 30%. The analysis also pointed to a drop in entrepreneurship among whites, but to a lesser extent (a variation of 3.8 percentage points).
When investigating the reasons that lead entrepreneurs to open their companies, the Sebrae study pointed out that, four years ago, most black entrepreneurs (55.5%) created a business because they identified a good business opportunity. In 2021, in the second year of the Covid-19 pandemic, the situation was reversed and the largest share of black small business owners (51.3%) started to undertake out of the need to increase their family income. Once again, the survey indicates that the reduction in entrepreneurship based on opportunity affected both whites and blacks, but the majority of white entrepreneurs continued, despite the drop, pointing to opportunities as a motivation to start a business (52.6%).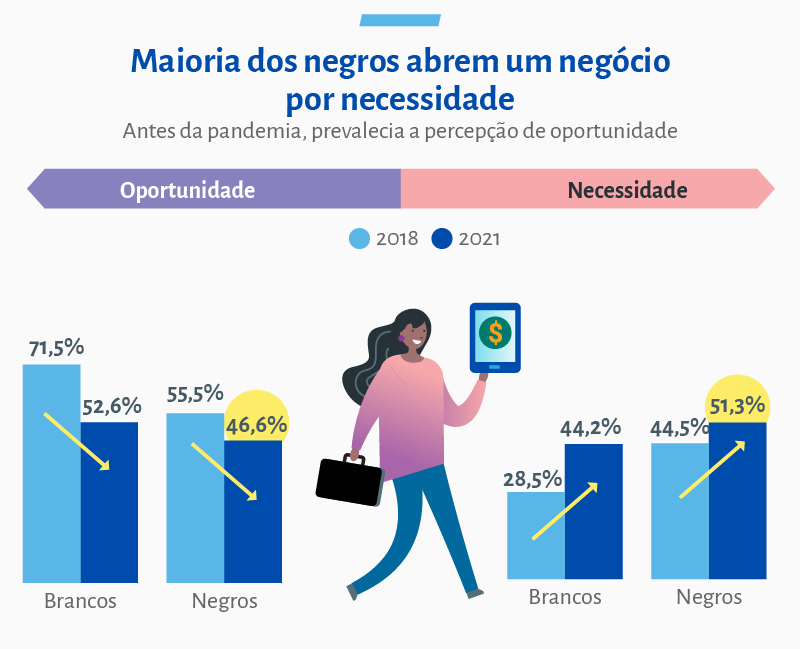 According to the president of Sebrae, Carlos Melles, historically, black entrepreneurs have already shown greater difficulty in developing their businesses, mainly due to their low educational level and their performance in less specialized and low-paid segments. "The greater absence of employment and income opportunities for the black public makes entrepreneurship out of necessity stronger among them. This behavior is also influenced by cultural aspects, such as racism, which even interfere with schooling", he analyzes. The contingent of entrepreneurs with Complete Higher Education, according to Melles, grew both among blacks and among white entrepreneurs. But the difference between them became even more pronounced. "In 2021, the percentage of whites with a university degree who are entrepreneurs was 2.25 times higher than that of blacks. In 2018, this 'advantage' of white entrepreneurs was 1.9 times", adds the president of Sebrae.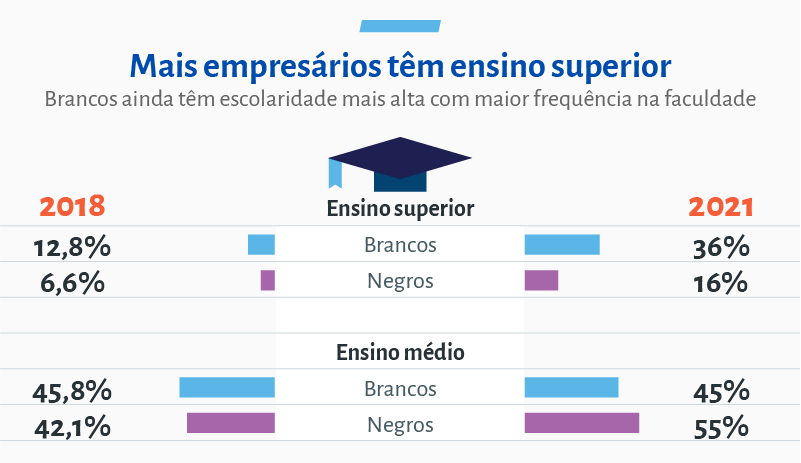 Family remuneration, still according to the GEM Researches, increased in both groups, but the contingent of whites with remuneration above six minimum wages had a proportionally greater increase than that of black entrepreneurs. Between 2018 and 2021, the percentage of white entrepreneurs with income above 6 minimum wages rose from 7.8% to 28% (20.2 percentage points). Among black entrepreneurs, this growth was less strong, with a variation of 8.9 percentage points (from 5.1% to 14%).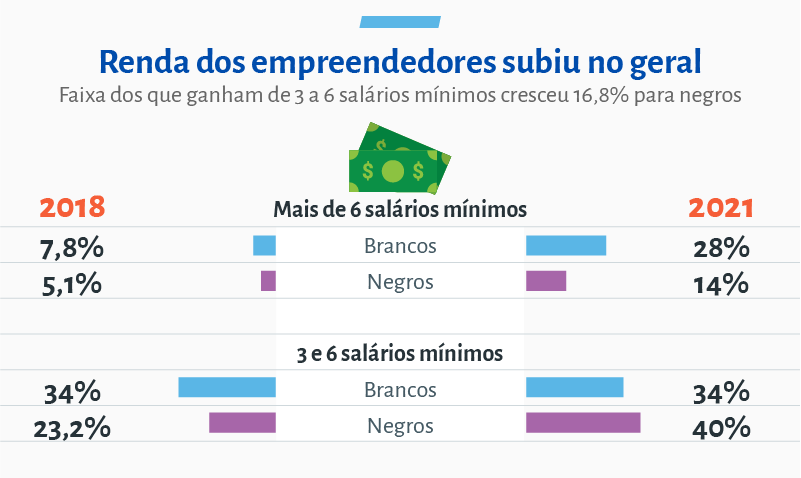 Check out the main numbers of Sebrae surveys:
Total rate of entrepreneurship
2018
white 35%
black 40.2%
2021
31.2% white
30% black or brown
Necessity versus opportunity entrepreneurship – among early adopters
2018
Opportunity
Whites – 71.5%
Blacks – 55.5%
Need
Whites – 28.5%
Blacks – 44.5%
2021
Opportunity
Whites – 52.6%
Blacks – 46.6%
Need
Whites – 44.2
Blacks – 51.3
Education
2018
Graduated
Whites – 12.8%
Blacks – 6.6%
High School Complete
Whites – 45.8%
Blacks – 42.1%
Elementary Complete
Whites – 21.4%
Blacks – 25.1%
Elementary Incomplete
Whites – 20.1%
Blacks – 26.2%
2021
University education
Whites – 36%
Blacks – 16%
High School Complete
Whites – 45%
Blacks – 55%
Elementary Complete
Whites – 11%
Blacks – 15%
incomplete fundamental
Whites – 8%
Blacks – 14%
Income
2018
More than 6 SM
Whites – 7.8
Blacks – 5.1
From 3 to 6 SM
Whites – 34%
Blacks – 23.2%
2021
More than 6 SM
Whites – 28%
Blacks – 14%
From 3 to 6 SM
Whites – 34%
Blacks – 40%
Dream of having your own business
2018
Whites – 4th main dream – with 28% of the votes
Blacks – 3rd main dream – with 37% of the votes
2021
Whites – 4th main dream – with 40% of the votes
Blacks – 2nd main dream – with 51% of the votes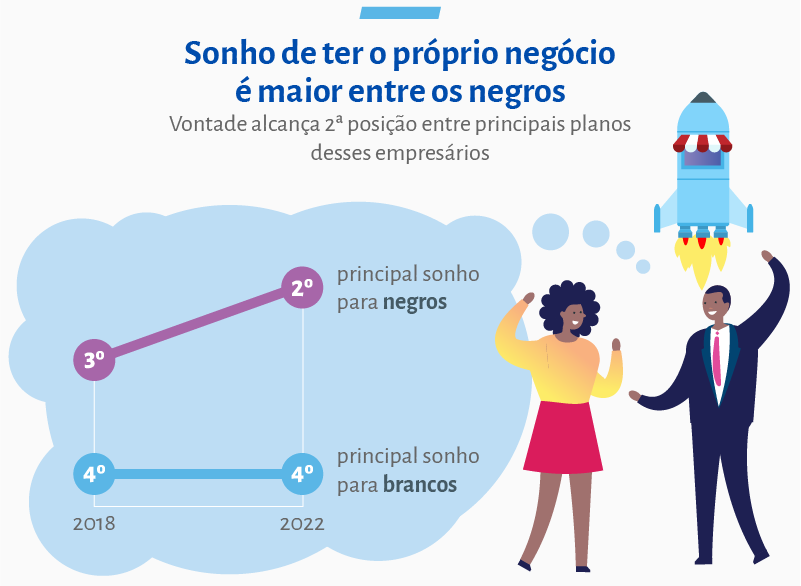 Source: Sebrae Agency