Three tricks to undertake with affect, in response to the CEO of Pretahub
Entrepreneur Adriana Barbosa participated in a panel on social entrepreneurship during the second day of the RD Summit, RD Station's innovation event
Entrepreneurship is not a bed of roses. On the contrary. Resorting to entrepreneurship can often be a way to circumvent adverse economic and social situations in search of some financial independence.
The scenario itself is challenging, and it can be even more complicated if the entrepreneur behind the business is part of some socially underrepresented group, such as women and black people, for example. An indicator that reveals these assumptions well is that of businesses led by women during the pandemic: according to RME, more than 80% of them closed their doors partially or definitively.
The challenging context of female and black entrepreneurship and the generation of business impact of this type were the agenda on the second day of the RD Summita technology event that takes place this week in Florianópolis (SC).
To discuss the matter, a lecture brought together Adriana Barbosa, CEO of PretaHub; Preto Zezé, president of the Central Única das Favelas (CUFA); Egnalda Côrtes, founder and CEO of Côrtes Assessoria and Carlos Pignatari, director of social impact at Ambev.
For Côrtes, the starting point in the discussion about social entrepreneurship (here, classified by the speakers as any type of business initiative that contributes to the economic development of underrepresented classes) is to relate the topic to the need to innovation, and not just within these small businesses. "Good innovation is one that bothers. Talking about social entrepreneurship and representativeness today is generating this positive discomfort in many organizations".
Pignatari says that in fact the agenda has already reached large companies, now aware of their role as promoters of an economy based on generating impact, and not just financial profit. "It's a matter of understanding how we can help grow together," he said.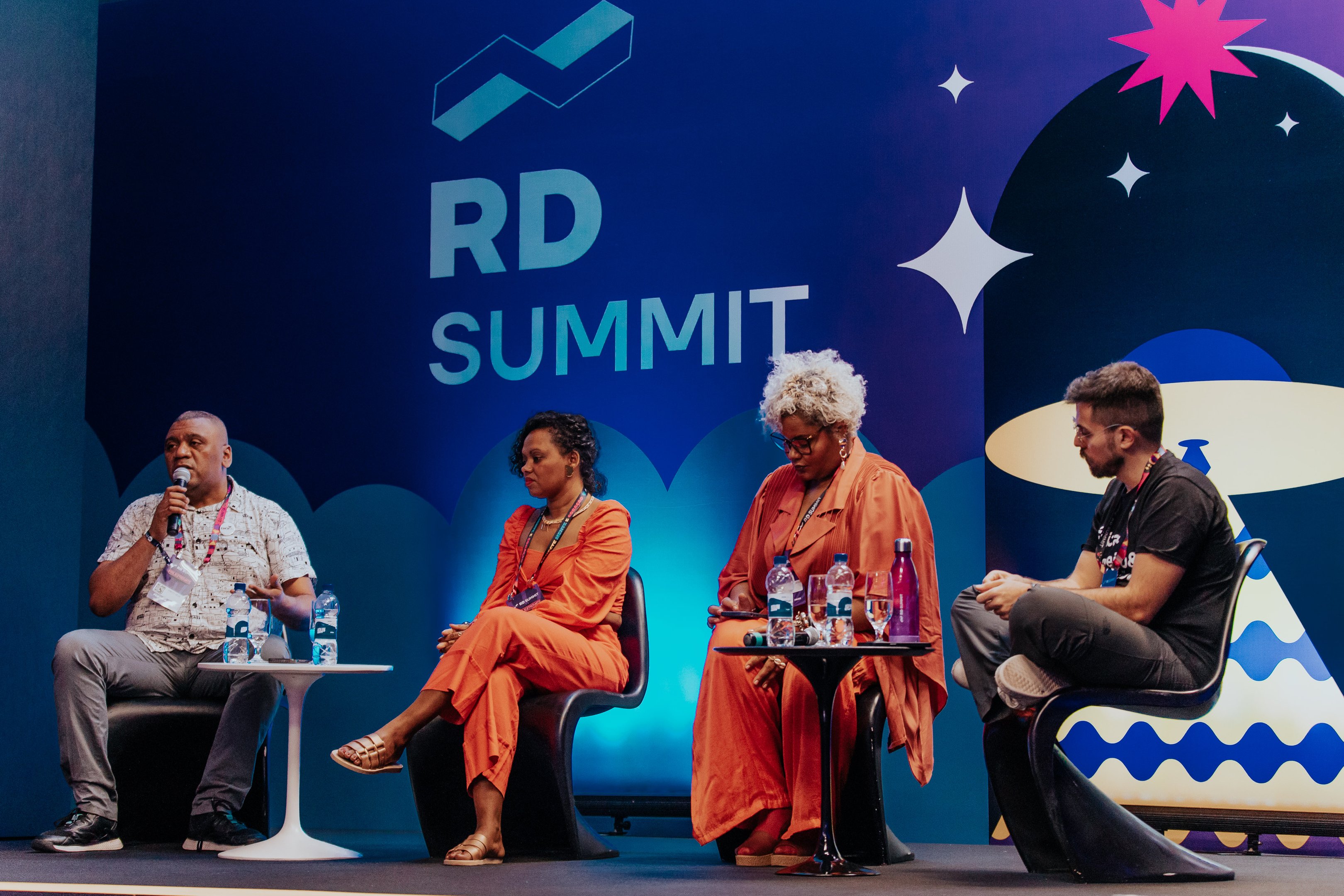 Preto Zezé (CUFA), Adriana Barbosa (Pretabub), Egnalda Côrtes (Côrtes Assessoria) and Carlos Pignatari (Ambev), speak on a panel on social entrepreneurship at the RD Summit 2022 (Marcelo/Green Photographs/Disclosure)
Tips for social entrepreneurs
After detailing their experiences with the topic — CUFA, for example, recently created the Escola de Negócios da Favela to develop favela entrepreneurs across the country — the speakers gathered tips for advancing the social impact agenda.
For Adriana Barbosa, from Pretahub, the need is for greater encouraging social entrepreneurs inside Brazil. Given this, she recommends a good dose of courage for those who want to undertake with impact, especially black entrepreneurs. "It's gonna be hard. So, in addition to keeping up with what's happening in the world, you also need to develop good emotional muscle so you don't give up when dealing with challenges and racism," she says.
In addition, it indicates the proximity to different small business support networks (such as Pretahub's own training hub). Third, it reinforces the importance of closely monitoring what is new in the world of entrepreneurship. "You need to know what is being said, to also know how to question it", he says.
Source: Exam