The 8 favorite actions of young people: Magalu (MGLU3) is among them
Public prioritizes companies with a good record of paying dividends, recommended for retirement
Itaúsa (ITSA4) is the favorite stock among young people (ages 13 to 25), says a TradeMap survey. The share appears in 46% of investment portfolios in the age group. The second place is Maxi Renda's real estate fund (MXRF11), followed by actions by the Magazine Luiza (MGLU3).
Even at a young age, the public has a habit of prioritizing companies with a good record of paying dividends, which are recommended for retirement.
Itaúsa paid dividends equivalent to 4.2% of the share price in the last 12 months and 7.6% in 24 months. Who breaks the rule is Magazine Luiza. MGLU3 paid 0.5% in 12 months and 2.35% in 24 months.
For Júlia Athayde, head of education at TradeMap, although it pays less dividends than the others on the list, what explains Magalu's presence is the fact that it is highly suggested in podcasts and videos, material that is widely consumed by young people, she analyses.
Below is a list of 10 favorite stocks and real estate funds by age group: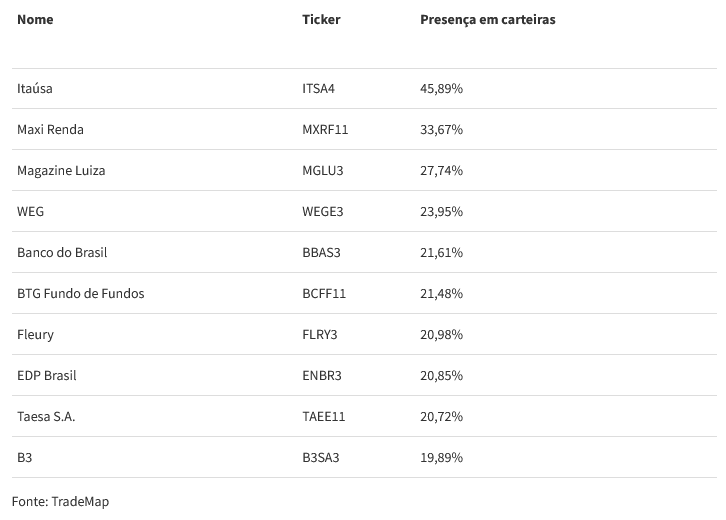 Popularization of the stock market
According to B3, since 2019 there has been a rejuvenation of the stock investing public. While in 2018, people up to 25 years old represented 4% of total investors, in 2019, this number doubled. In the first quarter of 2022, 12% of investors registered on the Exchange belonged to this age group.
The rise in the young audience may be related to the digitization of negotiations, which made the universe of actions more attractive and accessible. Another explanation may be the increase in the production and dissemination of content on financial education on the internet.
The survey also stated that almost half of investors aged 13 to 25 have up to R$ 2,500 invested.
Source: Exam