Small enterprise confidence rises to highest stage since 2013
The increase in the indicator from July to August was driven by the result of services.
The confidence of small business owners grew again in the country in August, according to data advanced by the g1 by Sebrae. The survey, carried out in partnership with Fundação Getulio Vargas (FGV), points out that the indicator rose to 100.6 points in August – the best score since November 2013.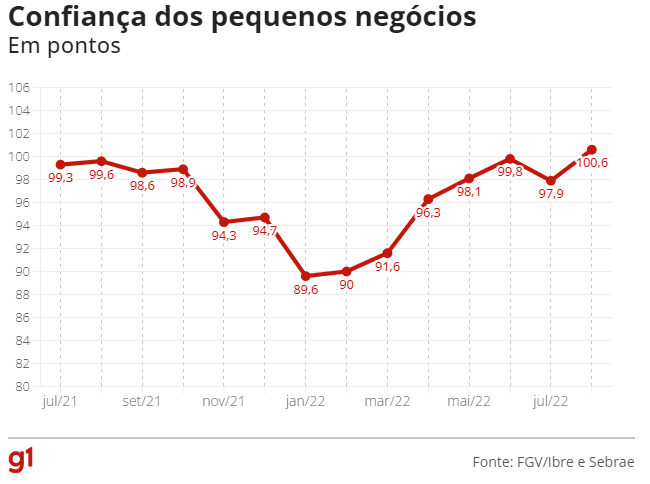 With the rise, the indicator also started to operate in positive territory (above 100 points). According to the survey, the improvement was mainly influenced by trade expectations.
"In August, the confidence of micro and small companies returned to the recovery path started in February. Surpassing the 100-point mark indicates an expectation of an improvement in the economy and good prospects for trade. Resources made available by the government, the improvement of the job market and the deceleration of prices helped in this result", comments the president of Sebrae, Carlos Melles, in a note.
sectors
In the sectorial analysis, trade confidence increased by 5.4 points to 99.2. Among services, the increase was smaller, from 0.5 point, to 100.6.
In industry, however, confidence retreated from July to August: a drop of 1.4 points, to 101.
"The Services sector, despite the positive result of 0.5 point in the month, has been showing signs of loss of breath in recent months with confidence accommodated at 100 points, showing a slight deceleration. The Manufacturing Industry, on the other hand, fell for the second consecutive month, in August, by 1.4 points", evaluated the survey.
Source: G1