Salon Line: the technique that raised the model to the extent of world magnificence giants
Attentive to the needs of Brazilian women, the brand diversifies its portfolio, bets on digital and consolidates success beyond cosmetics
In the 1990s, it was hard to imagine that a 100% Brazilian beauty brand would be able to compete on an equal footing with the leading multinational giants in the market. But Salon Line has proven it's possible. This year, the brand celebrates its 27 years with resounding success in the digital universe, with more than 400 products in the 16 lines in the portfolio and, mainly, occupying the rank of darlings of Brazilian women when it comes to beauty.
For marketing director Kamila Fonseca, the brand has so much to celebrate because it has always been dedicated to listening to its consumers and understanding their needs. This strategy helped salon line to create personalized solutions for Brazilian women, regardless of whether they prefer straightening, coloring or adopting natural frizz.
"Understanding Brazilian women who work, study, have more than one job, have a family to take care of, who drive daily and still want to take care of their self-esteem is what allows us to deliver the best products with the best cost-benefit ratio for them" , explains the executive, highlighting that the salon line receives, every day, more than 2,500 contacts from consumers in its service channels – which includes social networks, where the brand has been present at least since 2011.
The voice of consumers
To turn these contacts into insights and results, salon line has invested in technology like never before, which led it to close 2020 and 2021 with significant growth, despite the pandemic.
Today, according to Nielsen, the brand already leads the category of post shampoo in perfumeries. On TikTok, Salon Line has the biggest beauty profile on the social network, with nearly 3 million followers. And, across the internet, a network of influence with 30 ambassadors and more than a thousand "migs" who represent and advocate for the brand, winning over new consumers every day.
"We want to be where our consumers are, regardless of the place, as a background of the feminine universe", explains Kamila. "These women listen to Salon Line playlists on Spotify, listen to SL on the radio, are impacted by our ambassadors, by digital media, in cultural events and in great affinity with them, interact with our content on racism, homophobia, feminism, motherhood on YouTube… When she arrives at a store, the brand is already present in her head and the purchase happens."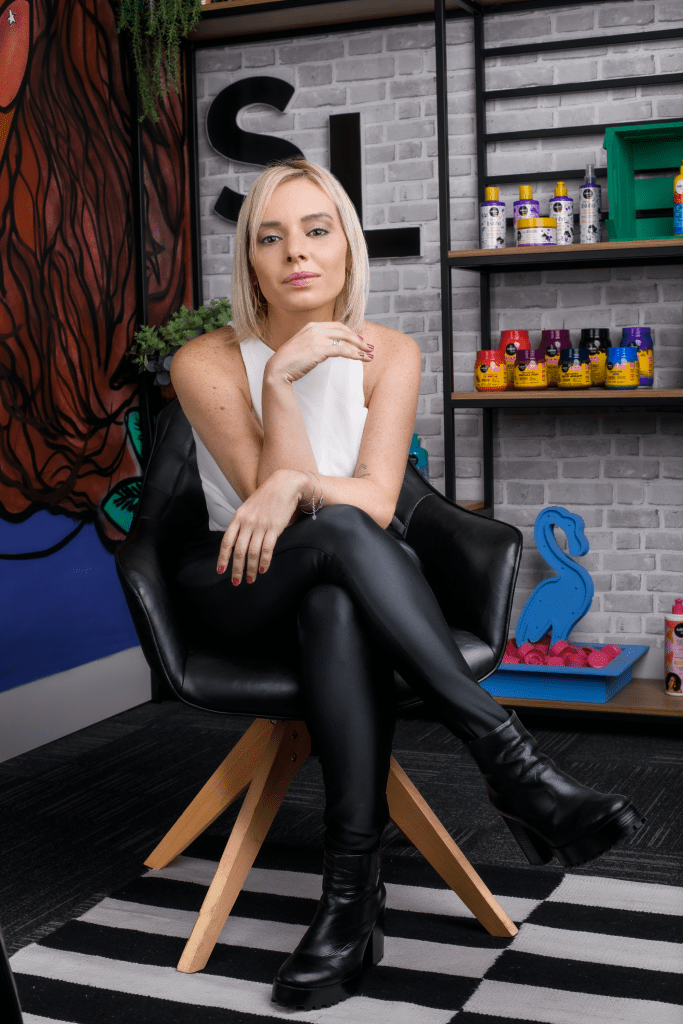 Innovation at home
To maintain such close contact with consumers, Salon Line also invested in the people who make the brand happen every day. In the first half of this year, the company started to develop middle leadership and started to work based on agile methodologies, with squads composed of different profiles that manage to deliver robust projects in record time.
"In a post-pandemic scenario, in which competition is increasingly fierce, our biggest differentiator is people", comments head of marketing Vivian Artigas. "After a few months we can already observe cases of process improvements, productivity gains, greater interaction between areas and a series of campaigns carried out in house – which gives us the certainty that we made the right decision."
It was with this team oiled under this new work model that the brand became a digital marketing case, with projects such as Hub Tik Tok, Hub E-commerce, Migs, Top Migs, Salon Line Ambassadors, Help Me to Sell, Conecta and Project Giphy. With the latter, the brand spread the energy of girl power across the internet with gifs whose reach surpassed that of Disney on the Giphy gif platform.
"This project gained a worldwide proportion that we did not initially imagine. Therefore, we are constantly updating and new developments according to the trends and memes of the moment", says Vivian, who sees in the restlessness of her teams the main asset of the brand. "We never stop researching, asking questions, trying to understand more and more deeply the habits and customs of Brazilian women. The financial results are a consequence of this strategy."
Source: Exam