Retail gross sales fall 0.1% in August, the third consecutive decline
In the year, the sector accumulates a high of 0.5%, but has a fall of 1.4% in the indicator accumulated in 12 months. Monthly rate would be the 4th in a row in the positive field, but a revision of primary data reversed the fall previously recorded in May.
Retail sales fell by 0.1% in August compared to July, according to data released this Friday (7th) by the Brazilian Institute of Geography and Statistics (IBGE). This is the third fall in a row, taking the sector to the lowest level of the year, accumulating a loss of 2.5% in these three months.
According to the IBGE, the result was driven by the low performance of the hyper and supermarkets and pharmaceutical items segments.
Despite the negative rate, the IBGE considers that the result points to stability in the sector. It was supposed to be the fourth drop in a row for the indicator, but the revision of primary data made the result for May change from a negative field (-0.5%) to a positive one (0.2%) and, with that, August represents the third consecutive decline, with an accumulated drop of 2.5% in the period.
In comparison with August of last year, the sales volume grew 1.6%. In the year, the trade accumulates high of 0.5%. Already in 12 months, sales accumulate a drop of 1.4% compared to the immediately previous 12 months.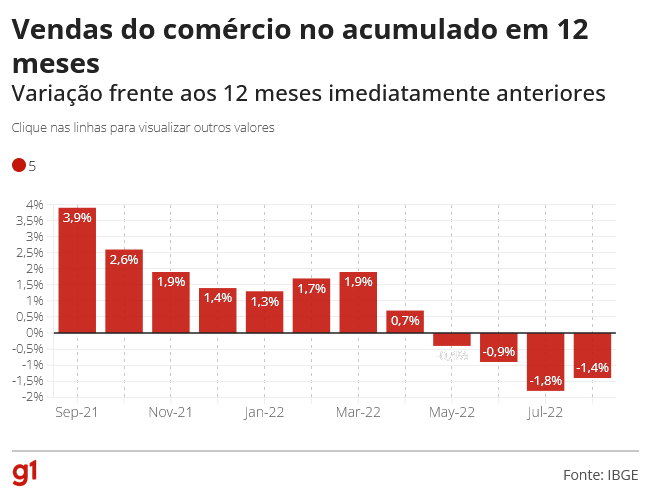 In the expanded retail trade, which includes the activities of vehicles, motorcycles, parts and pieces and construction material, the volume of sales fell by 0.6% compared to July and 0.7% compared to August last year.
volatile trajectory
According to the research manager, Cristiano Santos, although it has been on a downward trend for three months, the negative rates have been losing amplitude, "just as the growth observed between January and May has been losing amplitude".
"PMC's trajectory after the pandemic is still very volatile", emphasized the researcher.
With the August result, retail sales volume is 1.1% above the pre-pandemic level and 5.2% below the highest point in the series, in October 2020. It is the lowest level since the beginning of this year. year.
Source: G1