Presence of ladies on boards grows, however continues to be under 20%
The study of Boards of Directors 2021, carried out by consultancy Korn Ferry, points out the general data of women on boards and also variation by economic sector
Actions that encourage the presence of women in companies are increasingly frequent and has become a priority agenda. With this, it is possible to notice the growth of female participation in the market and also in the Boards of Directors. The percentage of women on boards rose from 13% in 2020 to 16% in 2021, according to the 2021 Study of Boards of Directors by Korn Ferry, a global organizational consulting firm.
If only independent directors are considered, the participation of women is higher: 21%. In 2020 it was 18%. A similar evolution is the female presence as a C-level, which increased from 14% to 18% in the same period. With the increase in the number of women on the boards of companies, there are more women with experience of taking positions on boards, expanding gender diversity and showing the companies' commitment.
"Companies are realizing that they need to show society, investors, that they are taking a closer look at diversity issues, effectively advancing this agenda. The companies' governance committees have demanded this and investors, even if they are not actively demanding it, are asking about it. Companies are building important diversity actions and the board has to set an example", says Jorge Maluf, senior partner at Korn Ferry,
Korn Ferry data also show that the percentage of women on boards has increased or remained stable in all sectors and the ones with the most female presence are consumer goods (21%), infrastructure/utilities (21%) and technology /communication (20%). The chart below shows the percentage of women on the board, by sector, comparing the years 2020 and 2021.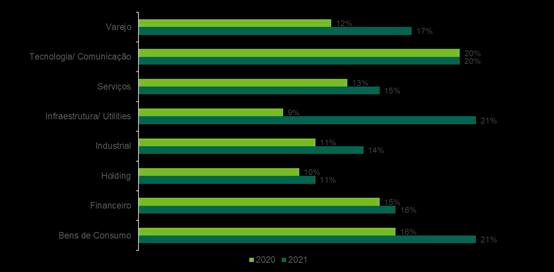 Source: Exam