Perceive the battle of mezcal, 'tequila's brother', to not be a sufferer of its personal success
Mexican liquor that is experiencing a boom and at the same time the risks of overexploitation; bottles can exceed US$ 100
Just by looking at them, Sósima Olivera knows how to distinguish one variety of agave from another and the precise moment when it will be ready to make mezcal, the Mexican liqueur that is experiencing a boom and at the same time the risks of overexploitation. "The bottle (of mezcal) is the summary of everything we've been doing for years," says Sósima as she walks through a field in Sola de Vega (Southern Oaxaca state), where wild forms and cultivated varieties of agave grow.
Faced with the boom, mezcalero masters like this 50-year-old woman, who has dedicated her life to distillation, are committed to saving wild species by planting them. In addition, educate consumers to value artisanal production.
From being drunk only in small Mexican communities, mezcal is increasingly present in the world. Its exports soared from $19.7 million in 2015 to $62.9 million in 2020, according to official figures. The United States, Canada, Spain, France and Germany are among the biggest consumers of this drink, which is produced in several states of Mexico, but which has its biggest representative in Oaxaca.
In addition, numerous brands have emerged with names that in some cases make a fun allusion to the effects of consumption: "Convite", "Viejo Indecente", "Pierde Almas" or "Mil Diablos". Some celebrities have also released their own mezcal, like Bryan Cranston and Aaron Paul from the television series Breaking Bad who are behind "Dos Hombres".
However, Sósima, who leads a group of producers, warns of the risks generated by strong demand. "There is more exploitation of the land (…), of biodiversity, of water, of firewood", he tells AFP in front of the clay pots where, among others, his mezcal "Fane Kantsini" (three hummingbirds in chontal) is distilled. , their indigenous language).
No agave, no mezcal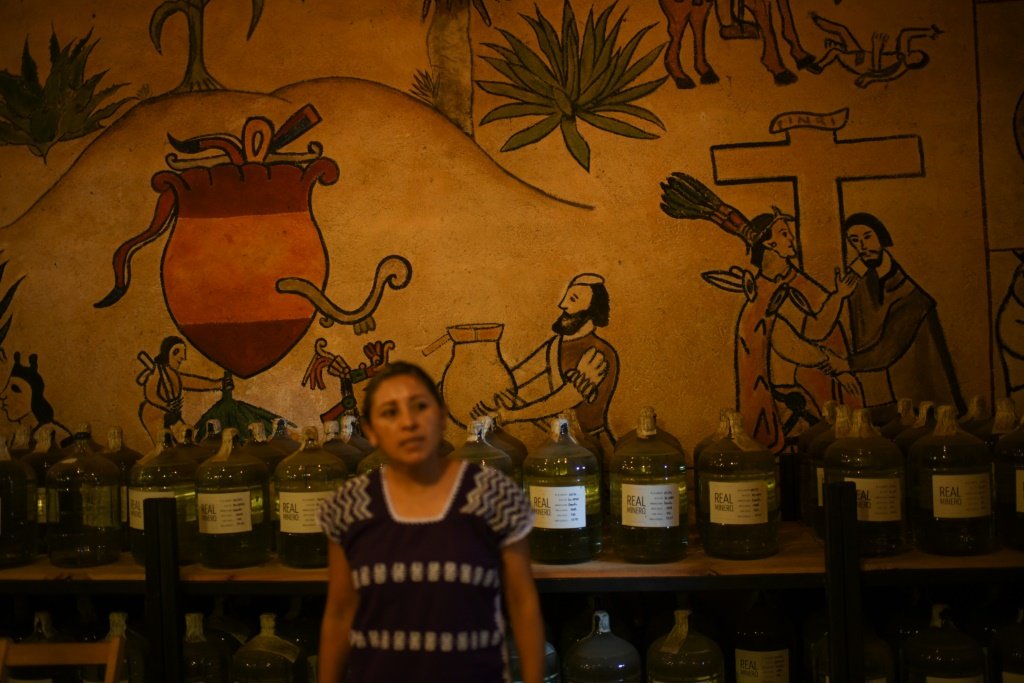 Graciela Angeles grows multiple varieties and preserves the seeds (AFP/AFP)
Although they have similar manufacturing methods, tequila is produced with blue agave, in the state of Jalisco; mezcal, which, like its relative, has a denomination of origin, uses different types of agave and its artisanal production takes longer.
Some of these plants take 13 to 15 years to mature, such as arroqueño, or up to 17 in the case of tepeztate. For this reason, producers such as Graciela Ángeles, creator of the "Real Minero", warn about the need to preserve these varieties in the face of the current "overexploitation".
"What will happen to biological diversity? There are few efforts to conserve these species", laments the 43-year-old woman, as the sweet smell of cooked agave fills her production site. "Without agave, there is no mezcal."
Graciela cultivates multiple varieties and preserves the seeds to ensure the sustainability of the process. In the family garden, it shows some agaves at a very early stage, just a few centimeters long. It is at this point that the complex production of the liqueur begins, which largely depends on the master's sense of smell and talent. But with the arrival of large companies, many simply do a blending job, warns Graciela.
"Most of the brands are products that are bought from different producers, in different communities, that are homogenized and packaged to have the volume", he says. On average, a 750 ml bottle of artisanal mezcal costs around US$40 in Oaxaca, although some exceed US$100.
Contrary to this business logic, Sósima and Ángeles mezcal is the result of a meticulous process that spans several generations. "There will always be small conscious producers who know that we have to plant a certain amount of plants, distill a certain amount. There is a balance in life", reflects Sósima.
To showcase the particular flavors and aromas of their products, they organize tastings and educate consumers. "What's behind mezcal is something I learned after falling in love with the taste and the effect," says Australian tourist Christopher Govers at a fair in Oaxaca. "History and culture then help and connect with flavor and effect," he adds.
Source: AFP