Past trend: Reserva launches a line of equipment starting from fragrance to wine
The Life Basics line will also include electronics, beer and pet items, and should generate revenue of R$100 million per year.
THE booking is currently divided into eight lines: Reserva itself, Reversa (women's fashion), Reserva Go (shoes), Reserva Mini (children), Oficina Reserva (casual chic), Simples (basic fashion), Reserva Ink (custom parts) and Unbrand (luxury products). Each one has a profile, but all with one characteristic in common: they are from the fashion segment.
Yet. The brand, which since October 2020 belongs to the group Arezzo, now launches a line of varied accessories called Life Basics. The idea is to extend the identity of the garments to other moments and situations, says Pedro Cardoso, director of innovations at Reserva. "It is the Reservation's look at other moments in life, complementary to the act of dressing."
Life Basics has already launched snacks and sunglasses. In the coming months, articles such as pet products, beer, wines, electronics, table and bath, furniture and cosmetics, all with the woodpecker logo. The launches are made with partner companies, some in joint ventures and others with brand licensing.
Brand licensing is a way of giving access to new consumers. In many cases it becomes an important source of revenue. The forerunners of this model in the 1970s were stylists Pierre Cardin and Roy Halston – the latter inspired a great series in Netflix. In Brazil, Alexandre Herchcovitch even licensed dozens of articles, from lighters to towels.
Reserva now wants to use its good moment to boost the brand. According to Cardoso, the revenue potential of the main products is 100 million reais per year. The revenue in the second quarter of the year of Ar&Co, Arezzo's arm that encompasses fashion brands, was 251 million reais (the third quarter result will be announced next week).
Pedro Cardoso counted exclusively for the Casual Exam details about the new line.
What is Reserva's purpose with this new line of accessories?
We have been looking at the possibility of extending the Reserva brand to other product categories, very much guided by two things. One is to be present in other moments and situations of our client's life, leisure, sport, at home, food, in addition to fashion. The second is the ability to be able to sign these products well, to curate good products that make sense.
What products are planned within this new line? We started with glasses, very connected to fashion, but it is a gigantic category. We're making electronic gadgets, from cell phone cases to speakers. A pet collection, for dogs and cats. A few other things are planned for next year, like cosmetics. We have snacks, coffee, wine, beer, stationery, vitamins and supplements, sports equipment such as beach tennis racket. Furniture, home and decor will take a little longer.
What will be the next category?
For this year we will have gadgets and electronics in partnership with Cellairis. For March next year we will have pet products, with guide, clothes, raincoat, food pots, rug, rubber toys. Snacks will be on Pão de Açúcar, on supermarket shelves. We are looking at the food sector with great affection because when we look at the world, over the next few years, we will have to look into this, towards a different diet. The Reserva Fruits category features freeze-dried fruit snacks made in a process that guarantees conservation without the addition of any chemical additives. Then we will have a baby stroller, crib, kangaroo backpack, car seat, in partnership with Safety 1st, which in Brazil is represented by Dorel Juvenile, also for the first semester.
What other partners will you have?
With most we are in conversations. With wines we are talking to two possible partners, in beer with another. In pet products we are with Petlove. We are talking to those who have a complete range of products for sports, we need to be careful to have a minimum mix. Operationally this makes management easier.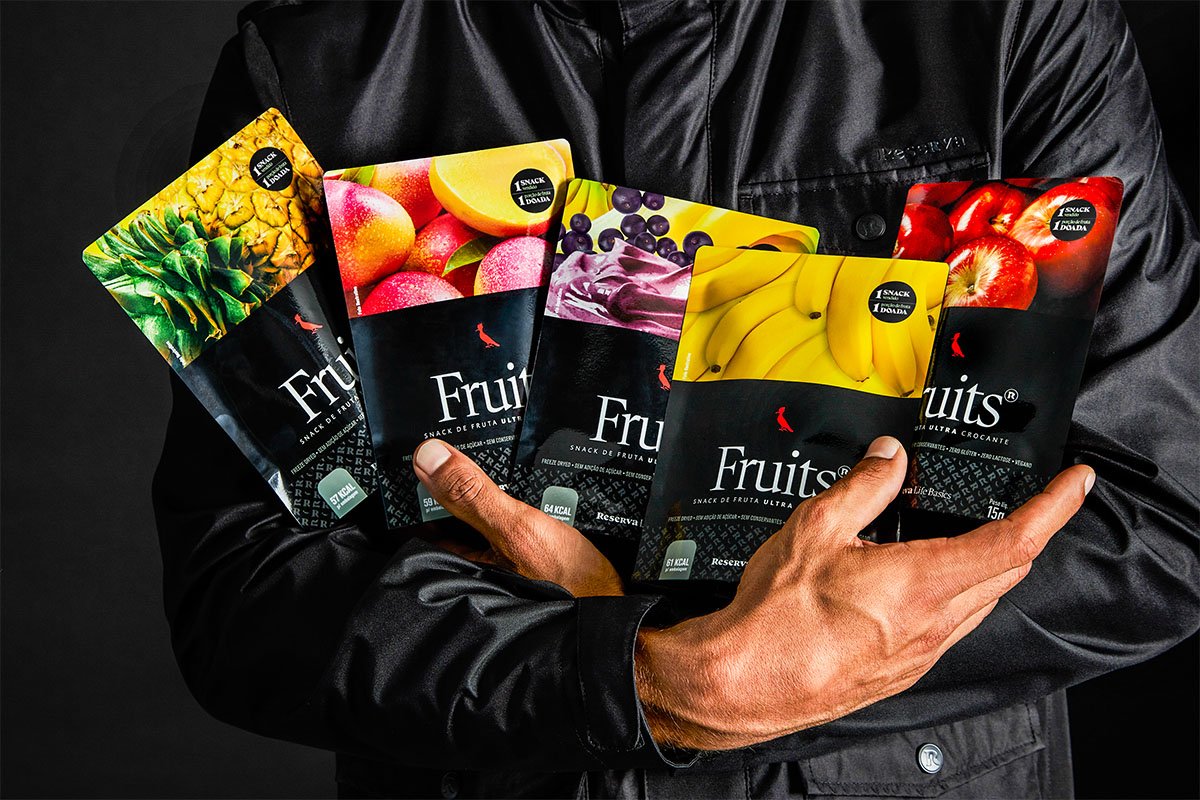 Reserva Snack: bet on healthy foods (Reserva/Disclosure)
Where will the line's products be on sale?
Many products are launched in a licensing format, where our partner also sells, or a joint venture, where we set up a company with the partner. In all cases, sales in branch stores are foreseen. In the case of eyeglasses in opticians, pet products will be in stores of the branch., and so on.
How many product categories are planned?
The idea is to launch a category every two months. Snacks were released in July, glasses in October, electronics will arrive in December.
What is the expected revenue with the Life Basics line?
Our purpose is to be present in our client's life at other times. Of course, an increase in revenue is a natural consequence. Some of these categories are very strategic in terms of revenue. We are talking about glasses, cosmetics and pets. An estimated revenue size of these categories is 100 million reais per year. In other categories we are aware that it will be a longer construction. They can turn out to be great sources of revenue, but we know it won't be a blast. A fashion brand manages to transport its values, its identity, more easily to some categories, such as perfumery and optics, than others. Naturally we will put a little more force into these categories.
What values ​​does Reservation want to transfer to other products? The brand is known for irreverence, for example.
The irreverence of the brand is a trait, but this has been modified over time, our client has gone through a maturing process. Things we did ten years ago we don't do anymore, even from an aesthetic point of view. We have an irreverence, a pepper in one or another product, but we have become more sophisticated, more cosmopolitan, an essentially urban brand.
Was there already a plan to launch a line of accessories or did it come with the acquisition by the Arezzo group?
It was already an idea, even a little old, but we had other businesses that needed strength. Reserva Go was one of them. The line needed to grow, we needed to focus. When we matured these categories, we started looking at extensions. Out there, fashion brands manage to do this well, largely through licensing. Some are essentially intellectual property owners, with an aesthetic guideline, and are good at connecting with partners who are trained to do so.
What are the next markets to be explored?
You have to do it carefully, it's no use wanting to open up a monumental range of options. In general, we look for partners that build products with the same attention criteria as us. There is no rush to broaden the mix. We want to get into those segments that I talked about, but we don't want to sell you products that you wouldn't buy for yourself. But it has a lot of potential product. Today we have 12 categories mapped, but we are open to conversations.
Source: Exam