Orange juice shipments rise to China, but drought and frost drag down exports
Fruit suffered from intense heat, frost and drought in the 2021/22 harvest, which resulted in smaller oranges and decline in orchards
Orange juice shipments have grown significantly to China, but Brazilian exports have dropped in the current harvest due to weather problems faced in the last cycle.
This is what data from Secex (Secretariat of Foreign Trade) show, compiled by CitrusBR, an association of exporters that brings together Citrosuco, Cutrale and Louis Dreyfus Company.
Exports of orange juice from July last year to April, that is, in ten months of the 2021/22 harvest, closed with a total volume of 813,696 tons, which represents a drop of 5.21% compared to the same period of the previous year. last crop, when companies exported 858,384 tons.
The climatic scenario was bad for oranges in the field in the 21/22 crop, thanks to the occurrence of frost, drought and intense heat, which resulted in smaller oranges and fruit drop in the orchards, which brought down production in the citrus belt formed by the countryside of São Paulo and the Triângulo Mineiro.
According to Fundecitrus (Citriculture Defense Fund), 262.97 million boxes of oranges weighing 40.8 kilos were harvested, 31.2 million boxes less than the initial forecast.
As a comparison, the total lost due to bad weather represents 64% of the crop of 47 million boxes expected in Florida (USA), a traditional citrus growing hub.
Revenues from juice shipments, however, grew 5% in the crop year, reaching US$ 1.33 billion (R$ 6.55 billion, at the exchange rate this Thursday), compared to US$ 1.26 billion (R$ 6.21 billion) recorded in the same period last crop year.
"This 5% reduction confirms the trend that we warned in February that, due to the problems of the crop affected by the weather, it would not be possible to meet the international system. It is not possible to know what the percentage of loss will be in these final two months, but it is in line with what was expected", said Ibiapaba Netto, executive director of CitrusBR.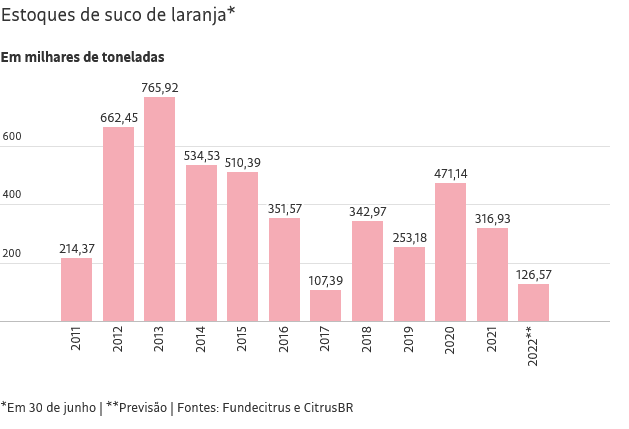 According to him, the two small harvests in a row generated a reduction in stocks. While in 2019/20 the crop was 386.8 million boxes, in the last two they were 268.3 million and 262.97 million, respectively.
"It is a very rare phenomenon, considering that citrus farming alternates years of higher yields, with positive biennials, with lower yields, negative biennials."
Until 19/20, this alternation was recorded regularly, but this cycle was broken by weather problems. In 2017/18, the crop in the citrus belt was 398.3 million boxes (high biennial), a total that fell to 286 million in the 2018/19 low season, according to Fundecitrus.
This shows that, even in a year when production was in the low cycle, it was higher than the last two recorded.
Europe continues to be the main market for national orange juice, with 63.87% of total purchases, followed by the USA (19.92%), China (8.09%), Japan (3.9%) and Australia (1 .05%).
Despite the stability in relation to the ranking of Brazilian juice importers, China imported a volume 50.89% greater than that recorded in the previous harvest. There were 65,615 tons, compared to 43,486 in the 2020/21 period. Already the billing grew 53.64%.
The total exported to China in the last ten months is greater than the volume of the last ten crops.
To Europe, exports fell by 5.36%, reaching 518,013 tons, while sales grew by 3.85%. As for the US, the volume had a slight drop of 0.4%, with 161,534 tons, but with an increase of 18.93% in revenues.
"This year, there would be conditions for an increase in exports, mainly because we have China pulling a greater volume. Europe would have a trend towards stability and the US would have an increase in imports due to low production in Florida, the lowest in history", said the executive director.
Source: Leaf