Memed expands the range of its marketplace in search of "new recipes"
In June 2021, when DNA Capital, manager of the Bueno family, parent company of Dasa, signed a check for R$300 million and took control of Memed, the diagnosis was clear. It was necessary to start monetizing healthech's user base of digital medical prescriptions, founded in 2012.
The recipe also indicated the need to go beyond the proposal for which the startup became known. As part of this vision, in October of the same year, DNA Capital led a new investment of R$100 million with Temasek, a sovereign wealth fund in Singapore, which also included Fit Participações.
With "gasoline in the tank" and just over a year after the entry of new partners took the reins of the operation, Memed is advancing in this plan with the launch of Memed+, a new version of its online drug sales platform.
"Memed was simply an electronic prescription engine and one of our missions was to start pushing the buttons and testing the monetization levers", he says, when NeoFeedJoel Rennó Jr., who took over as partner and CEO of healthtech, at the invitation of DNA Capital, also in June 2021.
He explains that Memed+ is a natural evolution of the platform for the direct purchase of medicines launched by the startup in May of this year, which also included the possibility of scheduling exams at partner clinics and laboratories and which has already surpassed a GMV of R$ 100 thousand in a short time. more than a month on the air.
However, unlike this first attempt, in which any purchase or appointment is linked to a digital prescription from Memed, in the new channel, any user can have access, with a few clicks, to the purchase of medicines and also of other categories.
With a model based on charging take rates of partners and the option of withdrawal at points of sale, Memed+ was born with ten pharmacy chains, including Drogaria São Paulo and Pacheco, from the DPSP group, and brands such as Indiana, Rosário, Rede Farma and Pense Farma.
The list also includes digital pharmacies, such as Farmadelivery, Qualidoc, X-Farmácia and Far.me, the latter, a startup invested in by Viveo. The offer also includes categories such as dermocosmetics, supplements and vitamins, hygiene, nutrition, beauty and well-being, with sellers such as Época Cosméticos, Nivea, Neutrogena, L'Oréal and Nestlé.
"We are talking about a total and annual addressable market of more than R$ 300 billion", says Rennó Jr.. The account in question includes the values ​​moved annually in the country in the categories of medicines, R$ 150 billion; of exams, R$ 30 billion; and from the other segments, of R$ 180 billion.
To scale the platform, one of Memed's mottos is the negotiation of discounts with all sellers. From this perspective, in some cases, the marketplace has products available at prices up to 60% cheaper. At the start, there are more than 35 thousand items available.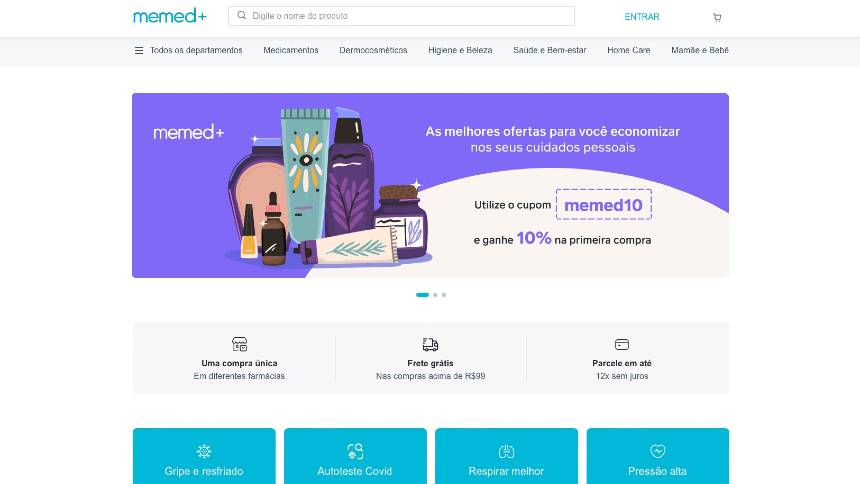 The opening of the platform to all users will be accompanied by the announcement, in August, of a new positioning and a new visual identity for Memed. "We are going to summarize everything we are doing with this rebranding", says Acacio Pedro, partner and head of marketing, growth and CRM at the startup.
With the new version, healthtech begins to build – to use a popular term in the market – an ecosystem based on its core business. "We issue around 3.5 million digital prescriptions and have approximately 2.5 million unique patients per month," says Rennó Jr.
Today, 177,000 doctors, more than 40,000 pharmacies and around 290 institutions, including hospitals, insurance companies, clinics and laboratories, use Memed's digital prescription system. The portfolio includes a standard, free version, and customized options, offered as a service, with monthly fees.
"Our projection is to close the year with a GMV of more than R$ 5 billion in terms of medicines that circulate in our ecosystem", says Rennó Jr.. "This is taking into account only prescriptions. Regarding Memed+, it is too early to make any kind of projection."
The fact is that, with these indicators, Memed is ahead of what can be pointed out as its main rival. This is Mevo, a startup that also works with digital prescriptions and has about 60,000 doctors, 25,000 pharmacies and 90 institutions in its user base.
Last week, Mevo announced the raising of an investment of R$ 45 million, led by Floating Capital, to gain traction, especially in its e-commerce channel. Renno Jr. rejects, however, any comparison between the two companies.
"They have, from what I understand, a different strategy, of setting up 'dark pharmacies', something we will never do", he says. "On the contrary. We drive traffic to our partners' physical stores."
Source: Neofeed