Kidults: the beloved customers of the toy industry
Chloe Dykstra relied on her seven Razor scooters to keep her entertained throughout the pandemic. During the lockdown phase, she also sought to occupy herself by assembling a Lego typewriter. Now, she's got her eye on a small sea life incubation kit from the Sea-Monkeys Aquarium. All of these "toys" were made for kids, but that's not a bother for Dykstra, a 33-year-old writer and producer who lives in Los Angeles. "Sometimes taking care of yourself is like going back to childhood a little bit," she says.
A legion of buyers like Dykstra, dubbed "kidults" in the United States, the "child adults", contributed to a 37% rise in US toy sales over two years, reaching the $28.6 mark. billion in 2021, according to data from consultancy NPD Group. At first, some executives more accustomed to the whims and preferences of children thought that the jump in sales of dolls and skateboards was explained by children confined at home. However, a 2021 survey by the Toy Association revealed that 58% of adults surveyed had purchased toys and games for themselves.
The question was included because association members had been hearing reports of adults using toys as a means of escape, according to Adrienne Appell, a marketing executive for the Toy Association. It's difficult to accurately quantify the dollar value of this trend, but industry executives say they've seen enough evidence of segment growth to convince them to launch new adult-specific products and marketing.
In September, American company Razor plans to launch an adult-sized electric version of its iconic children's scooter, first manufactured in 2000. It will sell for about $600, 10 times the value of the children's version. "With 'kidulting', we're seeing an ongoing focus on adults who understand the importance of taking time for themselves," says Jim Wagner, president of Razor USA.
Dykstra, who has been a fan of scooters since he was a kid, gave his testimonial to Razor's Kickstarter campaign for the newest scooter after meeting the company's art director at a birthday party via Zoom.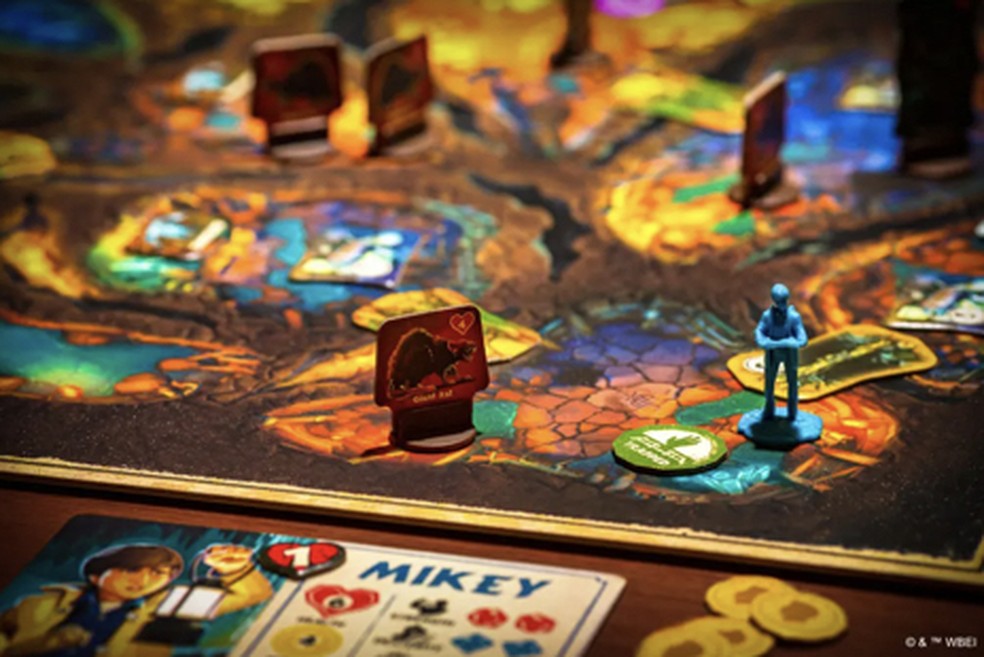 At Funko Games, the board game The Goonies jumped in sales — Photo: Reproduction/Funko
Later in 2020, Lego launched a marketing campaign called "Welcome, Adults" and included a section on its website for older customers, featuring items like the Van Gogh painting "The Starry Night," which sold for $170. , and a $400 Lego Technic Ferrari Daytona sports car. In February, the flower bouquet from its Botanical Collection, made from Lego bricks and sold for $50, was named the 2022 Adult Toy of the Year by Toy Association, a category added this year to the association's annual awards to reflect the trend.
The toy outperformed rivals like Mattel Inc.'s $100 remote-controlled Tesla Cybertruck Hot Wheels and a Beatles-themed Magna-Tiles set, which maker CreateOn says is appropriate for "fans ages 3 to 99." ".
Also in September, Basic Fun!, which licenses retro toys like Care Bears, will release $100 adult Lite-Brites that can be turned into wall art. These backlit boards, into which users insert colored pegs to create images, became popular with children in the 1960s.
Toy Association research showed that board games were the toys that exerted the greatest power of attraction for adults during the pandemic. That came as no surprise to Exploding Kittens chief executive Elan Lee, whose good-natured card game is often enjoyed by adults over a few drinks. During the pandemic, sales of the game have increased by at least 20% from pre-pandemic times, according to Lee. "It's really nice to have something to do with friends and family that doesn't involve electronics," she says.
The Barbie Bowie: reference that escapes the children's audience — Photo: Reproduction / Mattel
A range of adults have always been attracted to children's toys. Adults regularly line up to buy collectible Star Wars miniatures and Snow White dolls at fan events and Disney amusement parks. Sometimes, though, this doesn't work for both audiences: the cultural references in some of the new toys designed for adults may not reach children.
Mattel's $20 collection of Fisher-Price Little People toys inspired by the TV series "Supercats" and the $105 Barbie dressed as David Bowie are products that "most kids wouldn't have." connection," said Jim Silver, chief executive of toy review site TTPM. In May, a group that includes Bob Iger, former Disney chief executive, invested $263 million in Funko Inc., a maker of bobbleheads for adults, a sign of confidence in the industry.
"It's a 50-50 chance if this is going to continue to grow or if it's just a basically standard part of the business we serve now," says Jay Foreman, chief executive of Basic Fun! "Good marketers will figure out how to appear to these most passionate people."
In any case, toy industry executives are optimistic that adults will continue to detach themselves from the world's sorrows with a little childish fun. "Adults have been using play as a way to survive the Covid pandemic," says Cristina Liquori, head of marketing for Lego in the US. "I hope the behavior catches on."
Source: Value Pipeline