IPCA-15 inflation stays above 10% in 4 capitals; see rating
High in Brazil slowed to 9.60% in 12 months through August, says IBGE
Inflation accumulated by the IPCA-15 (National Index of Consumer Prices Extended 15) is still in double digits, above 10%, in 4 of the 11 capitals and metropolitan regions surveyed by the IBGE (Brazilian Institute of Geography and Statistics).
In Brazil, the high verified in 12 months slowed to 9.60% until August, informed this Wednesday (24) the institute. The cumulative index was above 10% there were 11 disclosures, since September 2021.
According to the IBGE, Salvador registered the highest inflation measured by the IPCA-15 until August: 10.88%. The high was at 12.74% until July.
In the metropolis of Bahia, clothing (29.36%) and food and beverages (15.05%) were the groups of products and services with the greatest changes in the 12 months through August.
São Paulo had the second highest increase in the period. The IPCA-15 rose 10.39% until August in the metropolitan region of São Paulo.
Clothing (17.03%) and food and beverages (15.95%) were also the groups with the most intense advances. The accumulated IPCA-15 was 11.57% up to July in São Paulo.
Rio de Janeiro (10.17%) and Curitiba (10.07%) are the other two metropolises that still accumulate double-digit increases in 12 months.
The other end of the list is occupied by Belém. The metropolitan region of the capital of Pará registered inflation of 7.20% until August. It is the least intense variation in the capitals. Porto Alegre (7.93%) and Goiânia (8.35%) follow.
Until July, 10 of the 11 metropolises had IPCA-15 above 10%. Curitiba showed the highest change until last month (12.75%), and Belém (9.10%), the lowest.
The official inflation index in Brazil is the IPCA (Broad Consumer Price Index), also released by the IBGE.
As the IPCA variation is calculated over the reference month, the data for August is not yet complete. It will be known on the 9th of September.
The IPCA-15, as it is released earlier, signals a price trend. The leading indicator is usually calculated between the second half of the previous month and the first half of the reference month of the disclosure. In this case, the IPCA-15 collection took place from July 14 to August 12.
The famine on the eve of the elections puts pressure on the Jair Bolsonaro (PL) government, which fears the effects of the loss of purchasing power for Brazilians.
To try to reduce the damage, the president bets on a package of boosted benefits, including Auxílio Brasil, and on cutting taxes, which have already reached part of the prices.
In the final stretch of June, Bolsonaro sanctioned a project that defined a ceiling for charging ICMS (state tax) on fuel, electricity, transport and telecommunications. The measure resulted in lower prices for products such as gasoline.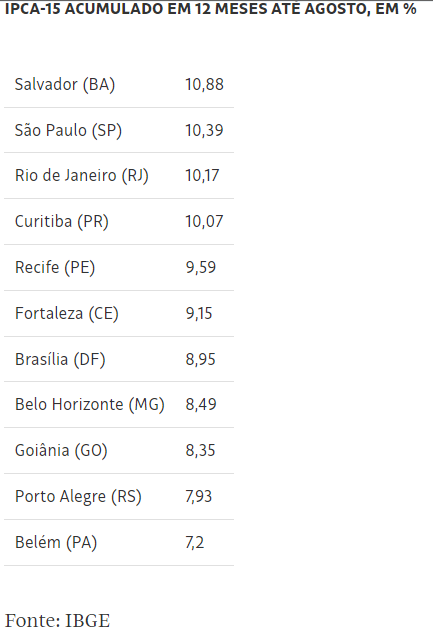 Source: Leaf