Industry loses 1 million jobs in a decade in Brazil
Workers' income fell from 3.5 to 3 minimum wages, according to IBGE
In a decade, the Brazilian industry lost about 1 million jobs, indicates a survey released this Thursday (21) by the IBGE (Brazilian Institute of Geography and Statistics).
According to the survey, the employed population in the sector was 8.7 million people in 2011. Already under the impact of the Covid-19 pandemic, the number was 7.7 million in 2020, the most recent year with available data.
The loss of 1 million jobs comes from this comparison, points out aPIA (Annual Industrial Survey).
According to Synthia Santana, manager of structural analysis at the IBGE, the reduction in vacancies can be associated with a succession of turmoil faced by factories throughout the decade.
"In 2011, we had just emerged from the global crisis. Then came the recession [de 2015 e 2016]. In 2020, another crisis emerged [pandemia]. Some sectors of the industry have not been able to recover," said the researcher.
The IBGE states that half of the reduction in jobs, between 2011 and 2020, was concentrated in three segments: manufacturing of clothing and accessories (-258.4 thousand), preparation and manufacture of leather goods, travel items and footwear ( -138.1 thousand) and manufacturing of metal products, except machinery and equipment (-134.2 thousand).
The research cites that activities like these probably faced more intense structural changes related, for example, to the evolution of technology, strong competition with the external sector and dependence on domestic consumption.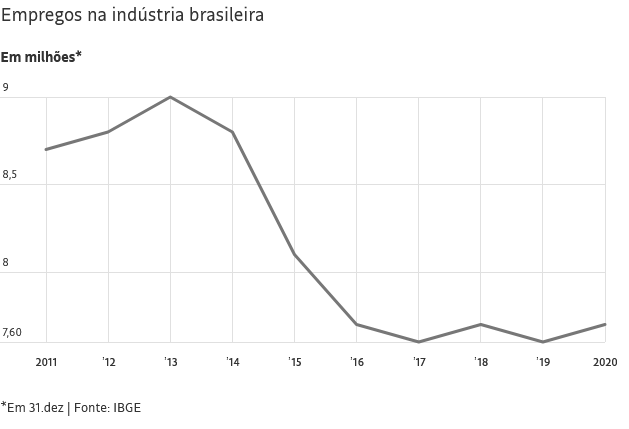 In the transition from 2019 to 2020, even with the effects of the beginning of the pandemic on part of the industry, the sector as a whole managed to register an increase of 35,200 jobs. The employed population jumped from 7.6 million to 7.7 million.
The manufacture of food products led to this expansion, with an increase of 121,500 jobs. Global demand for food remained heated after the onset of the health crisis, which helped to offset job losses in other industrial sectors in 2020, such as coke, petroleum products and biofuels (-91.9 thousand).
salary gets lower
The IBGE also pointed out that, over the decade, the income of industrial workers shrank. From 2011 to 2020, the average salary in the industry dropped from 3.5 to 3 times the minimum wage.
The survey also reported that the number of industrial companies with one or more employed persons fell for the seventh consecutive year – that is, it has fallen since 2014. The contingent reached 303,600.
At the beginning of the decade, in 2011, there were 313,200 industries. In 2013, the number approached 335 thousand, the highest level in the historical series.
Source: Leaf