How inflation affected Christmas dinner costs for 2022
Products used in Christmas dinner are, on average, 20% more expensive at the end of 2022 than they were at the end of last year.
This is what points out a survey carried out by André Braz, economist and researcher at FGV IBRE, at the request of BBC News Brasil, based on data from the Consumer Price Index (IPC) from FGV.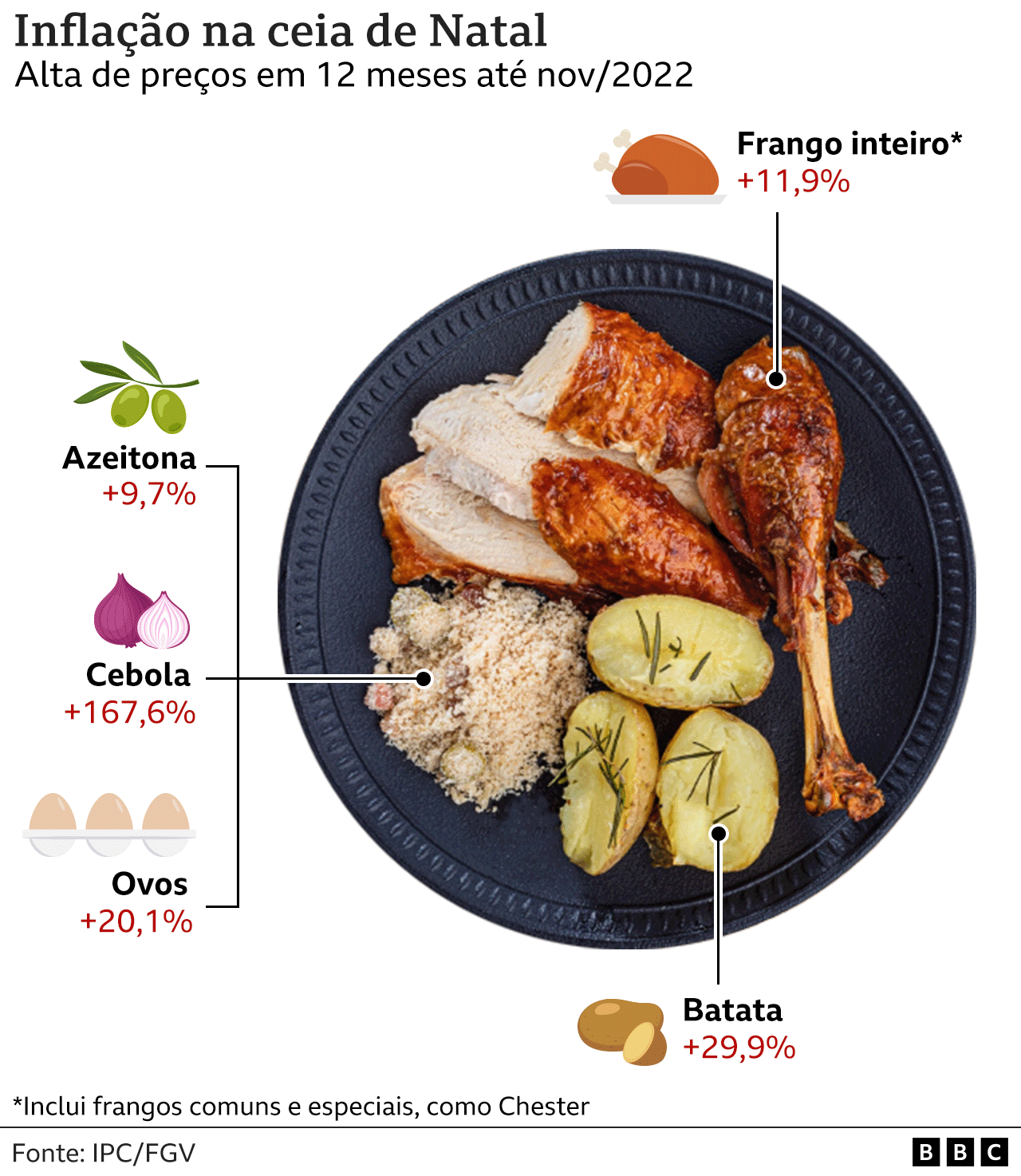 The average inflation of this year's Christmas basket (accumulated rate in 12 months until November 2022) is more than double the rate verified last Christmas, which was 8.55% in the accumulated 12 months until November 2021.
By Christmas 2020, when the coronavirus pandemic began, the inflation rate for this selection of products had been higher, with an average increase of 32.3% in the 12 months through November of that year.
The basket considered in this calculation includes eighteen categories of products used in Christmas recipes: rice, potatoes, onions, fruits, wheat flour, other types of bread (including panettone), milk, whole chicken (includes common and special chickens, such as Chester), eggs, beef, pork loin, pork shank, cod, olive oil, soy oil, mayonnaise, olives and wine.
Braz points out that, although the rate is in double digits and much higher than in the previous year, this result is in line with what was seen in the behavior of inflation in 2022.
"What has attracted a lot of attention in terms of inflation in recent months is precisely the food group. There has been a recurring increase in the items that make up this cut that we made for the Christmas dinner – it is made up of items that drove inflation in 2022", he tells BBC News Brasil.
The prices that most and least rose
The five biggest price increases – which rose above the average for the Christmas basket – are for products that are not exclusive to Christmas: onions (167.6%), fruit (38.8%), wheat flour (30%), English potatoes (29.9%) and mayonnaise (29.9%).
Only one product had a reduction in average prices: rice, with -1.63% variation, which Braz attributes to an increase in supply after good harvest conditions in national production in the period.
And the products that had smaller price increases were: pork loin (0.13%), pork leg (0.64%), beef (2.39%) and soy oil (2.82%).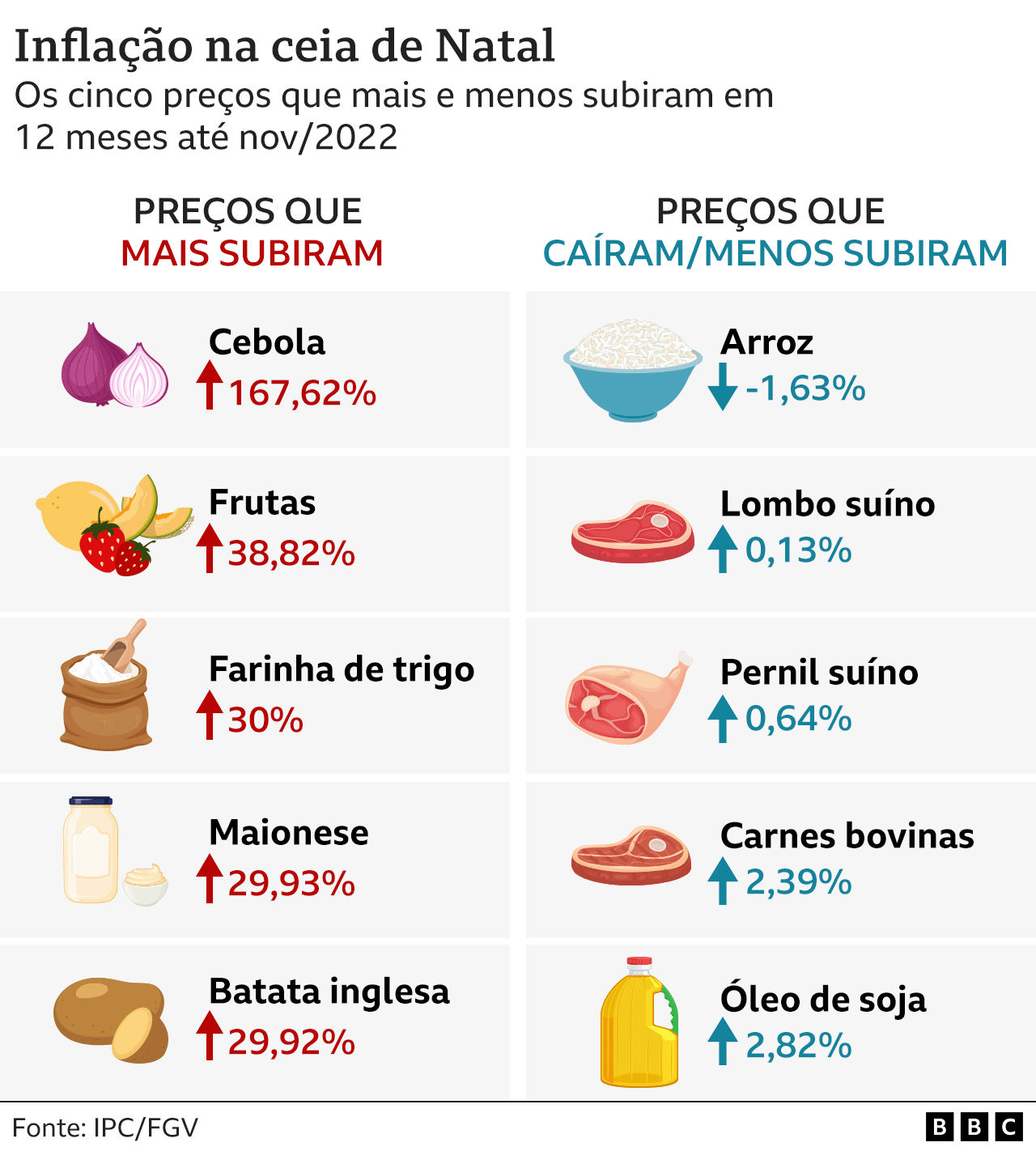 Despite the strong increases in some products, Braz points out that the items with the highest value in the basket – such as animal protein items – had smaller increases.
"The family spends a lot more to buy the proteins – chicken, sirloin, ham – and they went up a little. Now, items that are complements, such as vegetables, have gone up a lot, but they have a lower price level, that is, they commit a little less than the family spends on a Christmas dinner", says the economist.
This helps, in his assessment, "to circumvent this price increase a little".
By Christmas 2021, the 12-month increase in whole chicken had been more than 24% and pork loin, 4.36%.
Shared Christmas dinner
Christmas dinner shared among more family or friends this year – with fewer contact restrictions than in previous years due to the covid pandemic situation – could also be good news for Brazilians' pockets, according to Braz.
"This will be a Christmas in which the family will be able to get together and this means that families can share Christmas dinner. If each family provides a part of the supper, you don't need to buy everything."
And how to escape the highest prices on the market?
Braz says that a strategy can be the search for good quality products, but with "less traditional" brands.
"If you go to the supermarket and pick up two carts – one with premium brands, which you can't get out of your head, and another with good quality products, but with brands that have weaker marketing -, in general, the basket assembled by less traditional brands is between 30% and 40% cheaper than the supper of noble brands."
Data from the Brazilian Association of Supermarkets (Abras) Christmas survey show that 66% of supermarket owners expect higher consumption this Christmas, compared to 2021. Another 27% expect the same level and 7% said they expect lower consumption.
The same survey compared the price variation of a group of ten Christmas products (Christmas birds, olive oil, box of bonbons, sparkling wine, sirloin, panettone, ham, turkey, cider and tender) in relation to last Christmas and found an increase of 9 .8% in the final value. The highest percentage (17%) occurred in the Southeast and the lowest variation (3.1%) was in the North – the region that has, however, the highest average value of this basket, at R$ 306.34.
What to expect from food prices in 2023
The recent spikes in food prices were also due to external factors, such as problems in global supply chains and the war in Ukraine (which caused energy prices to skyrocket, with the sanctions imposed on Russia, in addition to problems in the supply of cereals produced in Ukraine).
In Brazil, Braz points out that measures such as payment of benefits and withdrawals from the FGTS have improved families' consumption basket and increased family demand – which, in his assessment, explains part of the price increase in the country.
"The other part has to do with the increase in the price of inputs for the production of vegetables and grains – to plant rice, potatoes, onions, you need fertilizers, pesticides, which have become much more expensive, also following the dynamics of the price of a barrel oil. The same thing happened with diesel, which is the fuel used to transport agricultural production and also by machines in the field", he says. "These are points that help to understand why food this year put so much pressure on inflation."
Braz points out that food prices should slow down in 2023, but slowly. Internally, the high level of interest rates and the low growth expected for next year affect the prospects for employment and income – which, in turn, impacts household consumption.
"With these restrictions on demand, it is likely that the breath for new increases in food prices next year will be smaller, so it is likely that they will start to rise less in the coming months", he says. "But for this Christmas the situation is given, that's what the consumer will find. Prices will be, on average, higher than last year."
Source: BBC Brazil