Frozen motherhood: is it value preserving eggs for the sake of profession?
a good pack of benefits it is an asset for the employer when it comes to attracting and retaining good professionals. Many companies have been striving to offer advantages that make their employees' eyes shine.
In 2014, tech giants such as Apple, Facebook and Microsoft sparked controversy by announcing that they would now offer a $20,000 subsidy to female employees who wanted to freeze their eggs. (The same initiative is not part of the policy of these companies here in Brazil.)
The procedure consists of collecting and storing the female gametes when the woman is still of childbearing age (up to 40 years old) so that they can be used in the future when she sees fit. Preservation is carried out in containers at a temperature close to -200 degrees – hence freezing or cryopreservation – and the material can be kept indefinitely without loss of quality, guarantee the experts.
The classic indication for the procedure is medical. "Women who need to undergo health treatment that can compromise fertility (chemotherapy or radiotherapy, for example) have the chance to save their eggs to try a pregnancy in the future", says gynecologist Maria do Carmo Borges de Souza, medical director of Fertipraxis Centro of Human Reproduction.
Advances in techniques and the good results presented in scientific papers made the American Society for Reproductive Medicine stop considering the egg freezing procedure experimental in 2013.
This has contributed to the fact that, more and more, patients want to undergo it for reasons that have nothing to do with health, but with social and professional life – such as young women who want to preserve their fertility and others who are approaching the limit of capacity. reproductive system without the certainty of wanting children or without a partner willing to be a father.
There are no official data on procedures of this type performed in Brazil — the National Health Surveillance Agency (Anvisa) only monitors the number of cryopreserved embryos, which does not reflect exactly the same public profile or the same motivations. But, in assisted reproduction clinics, the demand for the technique has more than doubled in the last five years.
At Fertipraxis, for example, 213 egg freezing processes were performed from 2015 to 2018, compared to 102 from 2010 to 2014. Huntington, one of the largest fertilization clinics in São Paulo, conducted 103 procedures in 2013 and 357 in 2018, a average growth of at least 10% in demand each year.
Freeze why?
The initiative by Facebook, Apple and Microsoft still generates suspicion as to the real intention behind funding egg freezing for female employees.
Critics of the subsidy argue that it is a disguised strategy for them to keep working and leave to think about motherhood later. And that the false sense of autonomy given to women over the decision of the right time to have children only reinforces the idea that it is not possible to reconcile them with a successful career.
"It is necessary to look at policies to support the mother during the first care of the child, such as extended paternity and maternity leave, flexible hours, day care. This is the period when she finds it most difficult to play the roles of mother and professional well", says Rita Monte, coach for women and consultant in processes of cultural change in companies.
It is a fact that motherhood keeps women away from the job market. A study by Fundação Getulio Vargas (FGV) shows that practically half of Brazilian professionals are fired or resign in the first year after giving birth.
There are several reasons for leaving, ranging from the option of dedicating themselves to the new stage of life to the difficulty in creating a structure that allows taking care of the child without having to dedicate less to work.
However, the main motivation of those who choose to freeze fertility is less in the professional sphere than in the personal one. In a recent study by Yale University, in the United States, with 150 women who preserved their eggs, 85% of those interviewed indicated the absence of a suitable partner as a determining factor for the decision.
Similar rates (always above 80%) were revealed in previous work with Belgian and Australian patients.
For anthropologist Marcia Inhorn, author of the Yale research and a scholar of the social impacts of infertility and assisted reproductive technologies in several countries around the world, the career planning It is definitely not the main reason why women are freezing their eggs.
"Most are between 34 and 39 years old and have already achieved most of the goals they had for education and career", says the specialist, stressing that this same profile is clearly seen in other countries where cases of egg cryopreservation come increasing.
"These women are reaching the limit of fertile life without a willing partner and they see in technology a chance to fulfill the dream of motherhood", she says. (Read the interview below).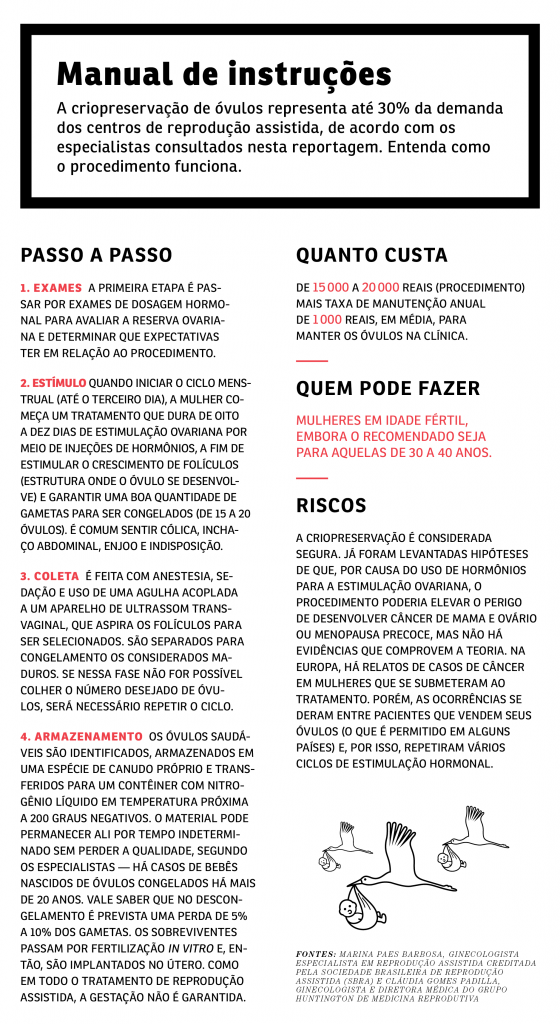 The intense dedication to work, including more than a decade of breakneck growth at a tech giant, may have made it difficult to find a potential partner, she admits. But being single at the age limit to get pregnant naturally put pressure on her to make the decision.
"As well resolved as I thought I was about it, and even knowing that there are other ways to exercise motherhood (adopting or co-creating, for example), I was emotionally moved and needed to support myself in friends and in therapy. It was a moment of self-knowledge, of getting in touch with my feminine side. I decided that I didn't want to be without that option, in case I want to get pregnant one day," she says. Ligia, founder of Voicers, an education and research company of the future, sees the offer of this type of benefit by companies as a trend, "as if it were a new health plan".
Choice of a generation
The increase in interest in egg freezing is proportional to the increasing presence of women in senior positions in companies both in Brazil and abroad, not least because of the high investment that the decision represents – from 15,000 to 20,000 reais.
The high level of education is also a common denominator among these women — most have a master's degree, according to the Yale survey.
"They are far surpassing men in terms of educational level and this ends up making the possibilities of finding a partner who meets the compatible intellectual requirements and willingness to form a family more scarce," says Marcia Inhorn.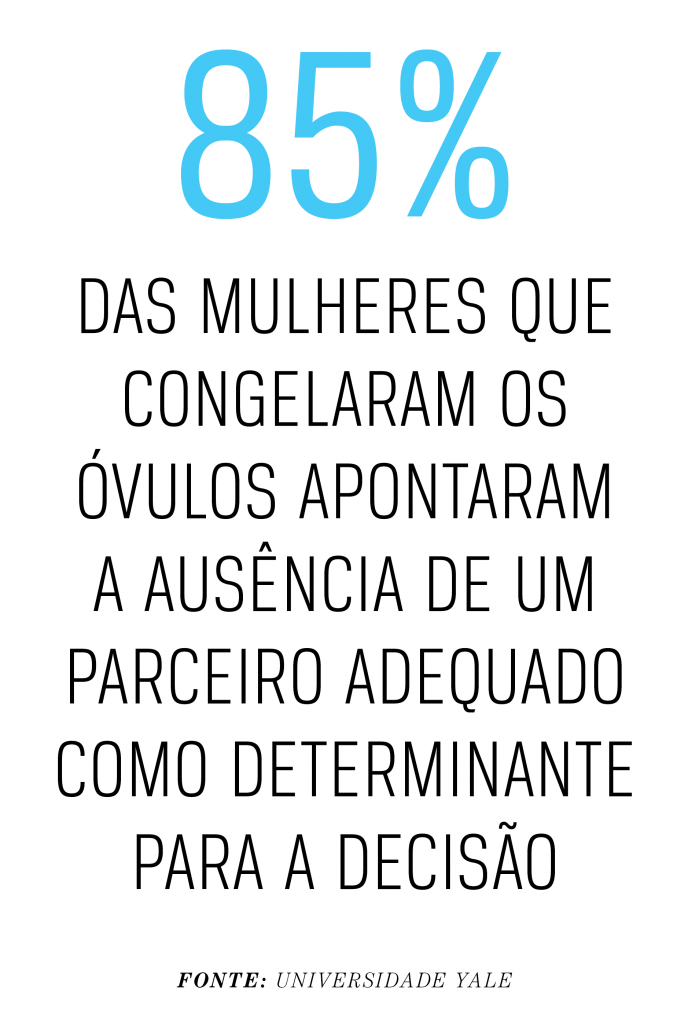 Even when everything is going well with work and relationships, there are doubts that make many choose to preserve fertility. Lawyer Patrícia Ferraz, 37, was in a new job and was married when she accepted the doctor's suggestion to freeze eggs last year.
Her husband already has two young daughters from a previous marriage and was excited about more heirs, but she wasn't (and still isn't) sure if she wanted to be a mother soon.
He weighed the desire to adapt to the new phase in the office and in life together, get a doctorate and even get used to living with his stepdaughters, and he made the decision.
"I kept thinking, 'Okay, I don't want to now, but what if I can't anymore when I decide to?' ", it says. The most difficult, according to her, was the period of preparation for the procedure, which messes with the hormones and generates a lot of physical discomfort. Besides, it's all so simple that it helps to understand why practically all friends of the same age have frozen eggs.
Patricia plans to get pregnant in two years. "I don't know if I'm going to use the stored gametes, but I feel relieved that I don't have to make the decision to be a mother because of the biological clock pressure", she says.
There are still exceptions to Brazilian companies that have this type of benefit, which fits as a trend among policies to support diversity in the corporate environment.
Pharmaceuticals Ferring is one of those isolated cases. Since 2017, it has offered the egg freezing subsidy to employees, regardless of their position. It recently extended it to employees' wives, even if they don't work for the company.
As of the writing of this issue, a sales representative had completed the procedure and two other professionals were in the midst of the evaluation to undergo it. In the company, 45% of the total employees are women and half of the management positions are filled by women.
Claudia Wrona, HR director at Ferring, highlights that the entire process is carried out between the company and partner clinics in several states, so that the patient is not aware of the costs involved.
There are also no conditions imposed for application, such as length of service or guarantee of bond with the company after treatment. "It's not about pressure, but about understanding that women have desires and perspectives that go beyond motherhood or professional fulfillment," says Claudia.
Deep down, the message that remains is this: no woman needs to sacrifice her career or motherhood. Science is giving the opportunity to decide the best time to be a mother — it is up to companies to be sensitive enough to offer this resource, still very expensive in Brazil, to their employees.
---
"FREEZE EGGS IS A KIND OF MATERNITY INSURANCE"
Researcher Marcia Inhorn, a professor in the Department of Anthropology at Yale University in the United States, has been studying the motivations and social implications behind the preservation of female gametes for years.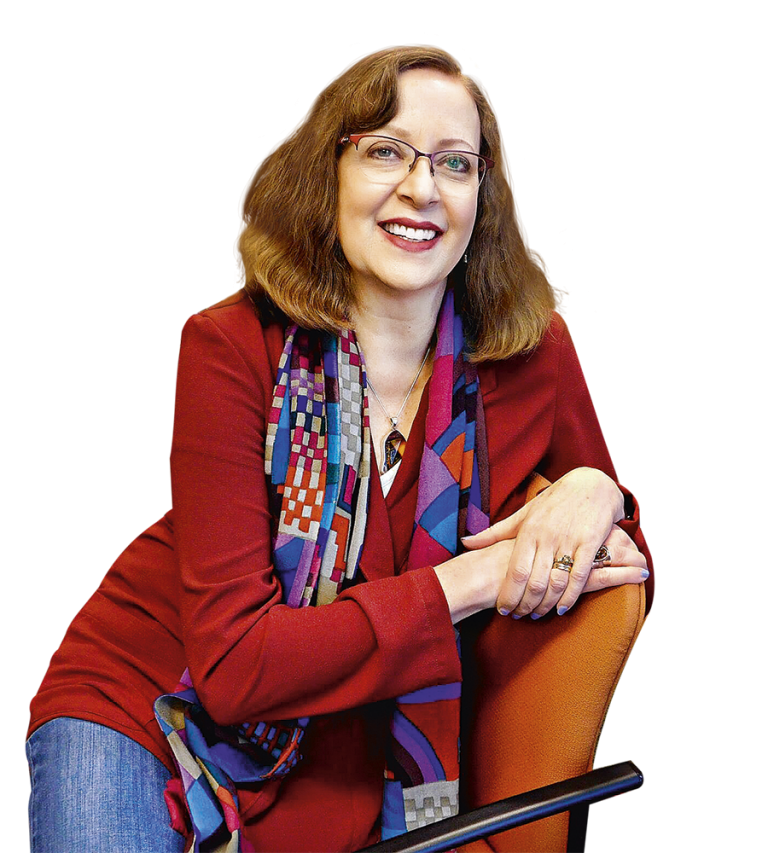 It is surprising that career-related issues are almost not are cited as a reason why women freeze their eggs. What explains this?
Most of those who opt for this technology are between 34 and 39 years old. [73%]. They have already achieved most of the goals they had in education and career. In the research I conducted, for example, 45% have a master's degree. One thing is clear: at least so far, the decision to freeze eggs is not about wanting to dedicate yourself to your career. These women are reaching the limit of fertile life without a partner and see technology as a chance to fulfill their dream of motherhood.
In their survey, even those in a steady relationship (15%) cite their partner as a reason to want freeze your eggs. Because?
Being single, separated, in a recent or uncertain relationship are the most common situations they find themselves in. But there are married women who end up going into "reproductive standby mode" in the hope that their partner will decide to be a father or be willing or ready to do so. Some admit they wait too long, others give up on this type of relationship. Each one has its explanation for this lack of male commitment to fatherhood, an issue that in itself needs to be studied.
After treatment, How do they feel: relief from prolonging the fertility window or more anxiety, as the process involves high financial and emotional investment?
Most say they are satisfied, relieved and empowered with the decision. Many refer to freezing as their "maternity insurance policy," although all are realistic that freezing does not guarantee having children. They see the freeze as a good investment, not least because most of them have a comfortable financial situation and did not have to make sacrifices to pay for it. In fact, many of these women voluntarily lament that the high price of technology is an obstacle for more people to have access to it.
How do you see the initiative of companies that fund the egg cryopreservation process for interested employees? in postponing motherhood?
Most of my interviewees paid for the procedure themselves, but several said it would be great if their employer or health plan covered the costs. Many see the initiative as an opportunity for companies to attract female talent and be welcoming to employees' personal needs and perspectives, rather than a coercion to delay motherhood.
Source: Você S/A