Far past hummus: perceive the renaissance of Palestinian delicacies
New bars and restaurants mark the resumption of interest in the region's traditional cuisine
From the millenary alleys of the Old City of Jerusalem to the luxurious kitchens abroad, a wind of renewal is blowing over the Palestinian gastronomy that, without straying from its ancestral traditions, is beginning to reap great success. The aroma of bread baked in the traditional terracotta oven wafts through the front door of the "Taboon", caressing the nostrils of customers who flock to this bistro in the Christian quarter of Jerusalem's Old City.
On the menu are Italian focaccias but, above all, local dishes: eggplants generously topped with tahini (sesame cream) and pomegranate, manushe with zaatar (flat bread similar to pizza seasoned with the traditional seasoning based on sesame and thyme) or lahmayun, a Armenian pizza with minced meat.
All typical and popular local dishes are sold like hotcakes, says the owner of the establishment, Nassar Odeh, interviewed by in July. The local food scene is "changing for the better", believes Odeh.
"Many Palestinians are eager to promote their cuisine," very different from Old City restaurants that usually specialize in just one type of dish, such as falafel or shawarma. Opening "Taboon" last year, in what was the family's souvenir shop, Odeh intended to promote Palestinian products.
"It is extremely important because it emphasizes Palestinian presence and entrepreneurship. We should be proud of our products," she says. Wines and beers from the occupied West Bank are also on offer at this restaurant and bar with modern decor and exposed stonework.
Gaza tomatoes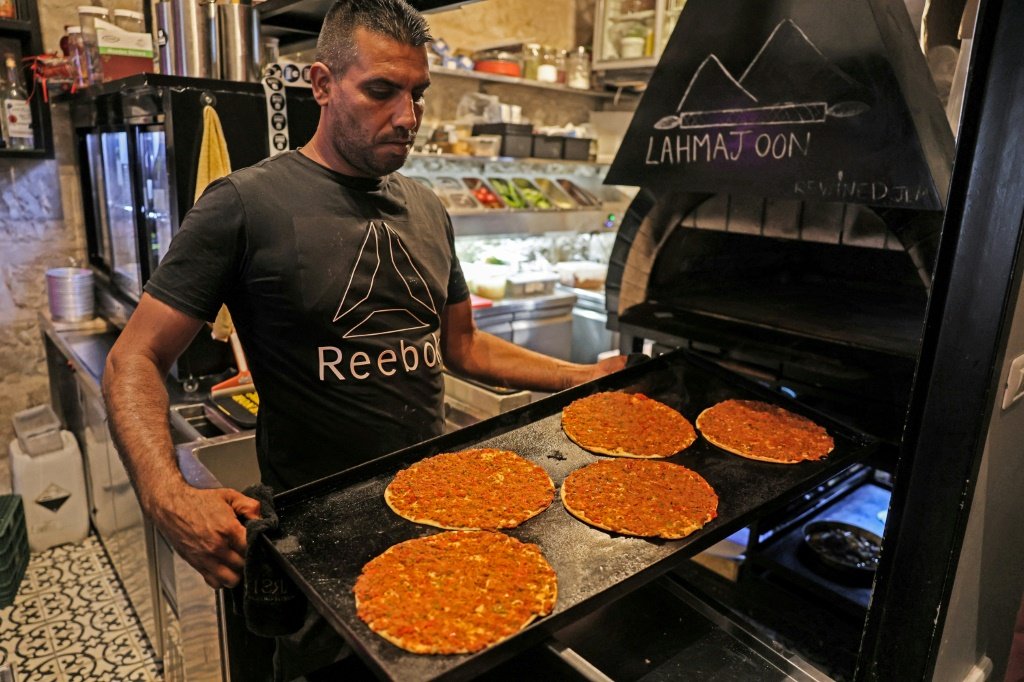 Dishes of a vegan version of "lahmayun" at Taboon (AFP/AFP)
For Dalia Dahdoub, manager of "Taboon" and owner of other bars in Bethlehem and Jericho, it's also about cooking "products that people don't know" from the Palestinian orchard.
Thus, its menu will soon be enriched with eggplants from Battir, near Bethlehem, a UNESCO World Heritage Site, and tomatoes from Gaza, an enclave under Israeli blockade from which only some agricultural products are allowed to leave. "When they come from Gaza, they are very red and taste better," says Dabdoub.
Palestinian settlements have recently spread, both in the Old City and in the Palestinian district of Sheikh Jarrah, in the eastern sector occupied and annexed by Israel, and even in Ramallah in the West Bank.
"It's a great start, we're just getting started," enthuses Izzeldin Bukhari, who organizes cooking classes and tours of local cuisine. "Everyone was doing more or less the same thing, but lately I've seen people coming up with new ideas," he told the report.
"Falastin"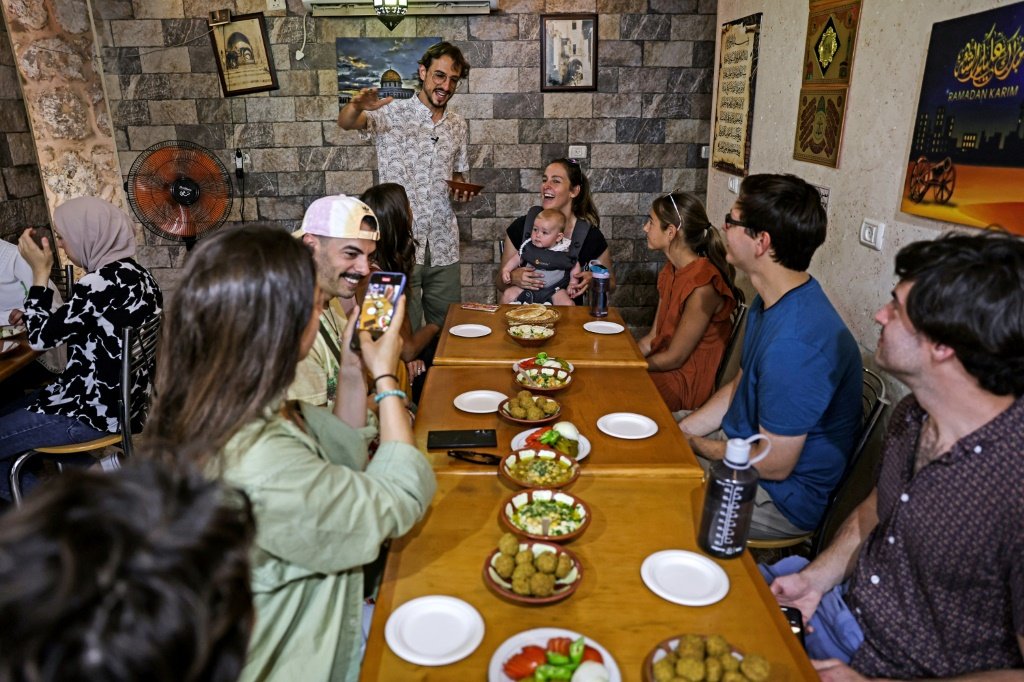 Guide presents food to tourists in Jerusalem (AFP/AFP)
A renowned Palestinian chef who has lived in London for over 20 years, Sami Tamimi recalls that "10 years ago, if you went to a publishing house to publish a book on Palestinian cuisine, they would say 'but who's going to buy it?'". Today, there are dozens of books.
In 2020 he signed with Tara Wigley "Falastin" (Palestinian in Arabic), inspired by his culinary memories, he who is unbeatable in praising the refinement of vine leaves and fried cauliflower on bread, his favorite snack when he was a student.
In London he has several fancy restaurants with his business partner, Israeli chef Yotam Ottolenghi.
Israelis are more successful in promoting local cuisine, Bukhari believes. "We're leaving a space for Israelis to talk about our food," she laments. So, "the more we talk about our culture and our food, the more we fill that gap," she says.
And the movement has already begun: Chef Fadi Kattan, from Belém, will open a restaurant in London this year, while Tamimi will work for two weeks in October at the prestigious American Colony hotel in Jerusalem.
This is the second event of its kind, after a first experience in which the chef observed how much the city's gastronomic scene has changed. "It was the first time I worked with an all-Palestinian team," he explained.
Source: AFP