Crops "discuss" and startup creates Google Translator for plant communication
By altering the DNA of tomato seeds, Californian InnerPlant has developed a system that deciphers plant language. The startup has just raised $16 million in a round led by John Deere
Plants "talk" and a California startup developed a kind of Google Translate to decipher plant language. Since 2018, Shely Aronov and Rod Kumimoto, founders of InnerPlant, have been dedicated to transforming crop feet into live sensors capable of warning farmers of their needs. And thus make cultures more resilient, sustainable and profitable.
Under threat, plants release specific chemicals. The so-called volatile organic compounds (VOCs) travel through the air until they reach neighbors who, warned of the danger, are able to protect themselves. The pioneer in studies of plant communication was the Swiss biologist Edward Farmer, a researcher at the University of Lausanne.
In the 1990s, he carried out an experiment that would radically change the way vegetables were seen until then. From passive creatures to beings endowed with various abilities. One of them is to communicate.
In the laboratory, Farmer demonstrated that, under the aggression of insects, mugworts emitted large amounts of methyljasmonate, an endogenous substance essential for their defense. Well, this compost reached the cultivated tomato plants next door. The fruits then began to produce another substance that, when consumed by the animals, impeded their digestion. That is, warned by the artemisias, the tomatoes took precautions.
Similar experiences were replicated by scholars from research centers around the world. Some have tested communication between plants of the same species; others of different species. Risk detection systems against different aggressors, in addition to insects, were also evaluated. And alerts have been proven to work against various types of pests, herbivorous animals, nutrient shortages, and water stress, among others.
"Plants are capable of much more sophisticated behavior than we imagined," writes American biologist Rick Karban, from the University of California, in an article in the specialized journal Ecology Letters. "They went through a selection in which they had to deal with the same challenges as animals and developed solutions that sometimes bear similarities to theirs."
The network of "solidarity" among vegetables, as you can see, is powerful. And we can benefit from it. But how? Thanks to advances in the knowledge of plant biology and physiology and the improvement of biotechnology, Shely and Rod, from InnerPlant, discovered a way to manipulate the DNA of plants, in order to make the chemical signals emitted in moments of danger fluoresce.
According to the startup's CEO, InnerPlant only "free rides" on the signals that plants naturally send to each other. By amplifying plant communication, farmers can detect crop needs early and intervene when problems arise. The fast and accurate action guarantees the health of the crops, reducing the consumption of pesticides.
With the help of computer vision, augmented reality, artificial intelligence and data analysis tools, a platform translates the language of plants. Signals can be picked up by drones, tractors and satellites. And, according to agtech, it is not necessary to turn the entire plantation into a giant living sensor. A few dozen smart seeds cover a medium-sized field.
Based in San Francisco, InnerPlant has just raised $16 million in a round led by John Deere. Previously, it had raised around US$6 million in investments, with MS&AD Ventures, Bee Partners, UpWest and TAU Ventures.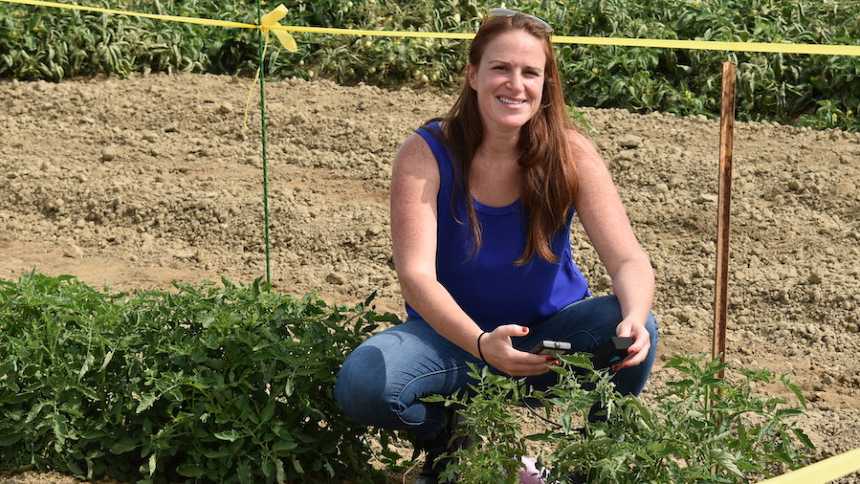 The first product successfully launched by agtech was InnerTomato, in 2020. Now Shely and Rod's team works on developing smart soybean and cotton seeds.
In an interview with the organization Meaningful Businessa global community of CEOs, impact investors, social entrepreneurs, humanitarian leaders and academics, Shely explains: "In conventional fields, when external symptoms become visible to farmers, it is usually too late to avoid yield loss. of the plantation".
In traditional agriculture, pesticides are applied prophylactically, in an attempt to protect the crop against uncertainties. In general, a volume, on average, 30% greater than that actually used by plants is used. "The exaggerated use of chemicals causes damage to the soil and the environment, in addition to increasing the costs of inputs", says the CEO of InnerPlant. "Ironically, the widespread use of these poisons has made pathogens more resistant."
As a result, 40% of the world's agricultural production is lost to pests, reports FAO, the UN agency for agriculture and food. A loss of US$ 220 billion, US$ 70 billion of which related only to invasive insects. If you count the US$ 40 billion spent annually on pesticides, the shortfall reaches almost US$ 300 billion. Listening to what plants have to tell us can be a good idea.
Source: Brazil Journal