Copom maintains Selic price at 13.75% per yr
With the fall in inflation, the Central Bank decided to interrupt the cycle of hikes in the basic interest rate
O Monetary Policy Committee (Copom) of Central Bank (BC) decided, this Wednesday, 21st, to maintain the basic interest rate, the Selic, in 13.75% per year, the same level defined at the last meeting, on August 3. The index is in line with financial market expectations.
According to the projection of the most recent Focus bulletin, released on Monday, 19th, the Selic rate should be maintained at 13.75% until the end of the year. Copom will still meet twice in 2022, in the last week of October and the first week of December. For the end of 2023, the market projects 11.25%.
With the decision to keep the Selic at 13.75%, the Copom interrupts the cycle of rising interest rates, which began in March 2021. The BC spent six years without raising the Selic rate. Between July 2015 and October 2016, the rate was 14.25% per year and then started to be reduced to 6.5% per year in March 2018.
As of August 2019, another phase of reductions began, reaching 2% per year in August 2020, with the impact of the covid-19 pandemic. In March 2021, for the first time since July 2015, the BC raised the basic interest rate by 0.75 percentage point, to 2.75%, and started the upward cycle.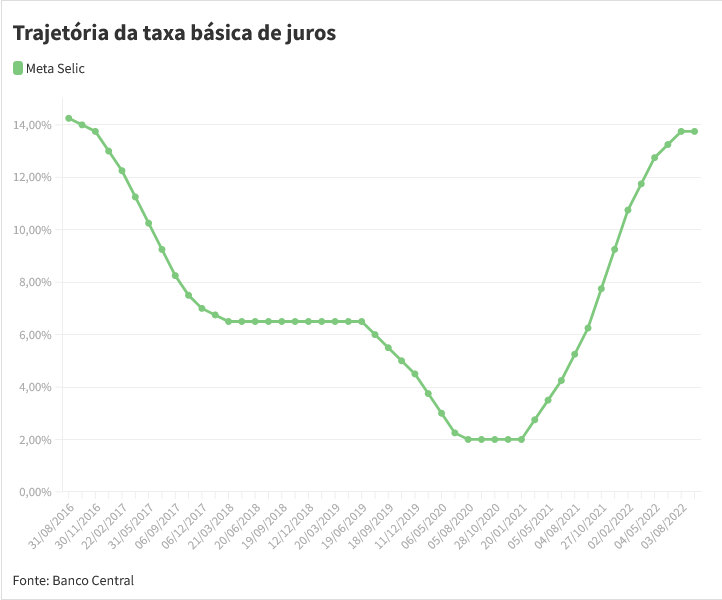 The interruption of the cycle of high interest rates was made possible by the deceleration of inflation in recent months. The country's official inflation, measured by the Broad National Consumer Price Index (IPCA), has accumulated a high of 4.39% in the year and 8.73% in the last 12 months.
In August, the Brazilian Institute of Geography and Statistics (IBGE) registered a deflation of 0.36%. Financial institutions consulted by the BC project that inflation will end the year at 6%. The forecast has been revised downwards for 12 consecutive weeks. In July, the market came to project 9%.
Despite the drop, the target ceiling should be exceeded for the second consecutive year in 2022. The inflation target to be pursued by the BC this year is 3.5%, with a tolerance interval of 1.5 percentage points up or down. low, being between 2% and 5%.
Source: Exam