Brazil has deflation of -0.37% within the September preview and collected goes to 7.96%
Inflation accumulated in 12 months through September stood at 7.96% in the IPCA-15, prior to official inflation
The Extended National Consumer Price Index-15 (IPCA-15), preview of inflation month, it was -0.37% in September. The data were released this Tuesday, 27, by the IBGE.
The index accumulated in 12 months was 7.96%, down from 9.60% in the IPCA-15 in August. In the nine months of the year through September, the accumulated change is 4.63%.
The result represents a deflation, when there is a negative variation in the index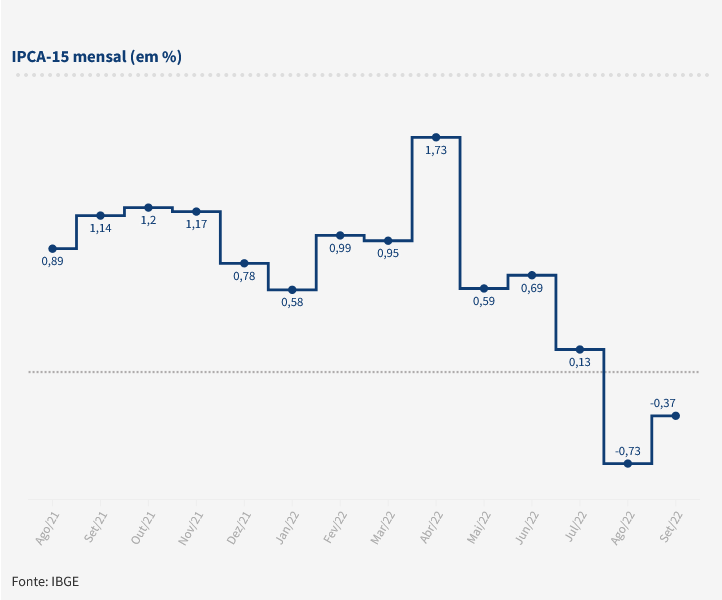 The change in September was below the market consensus, which expected IPCA-15 of -0.2% in the month and annual inflation at 8.14%.
In this week's Focus bulletin, which gathers projections from the main banks and analysis houses compiled by the Central Bank, the estimate was IPCA at 5.88% in the accumulated until the end of the year. It was the first time economists had projected inflation below 6% since March, shortly after the start of the war in Ukraine.
The IPCA-15 refers to the period between the last fortnight of the previous month and the first fortnight of the current month, and is considered a preview of the final IPCA, which covers the entire month and is released in the following month.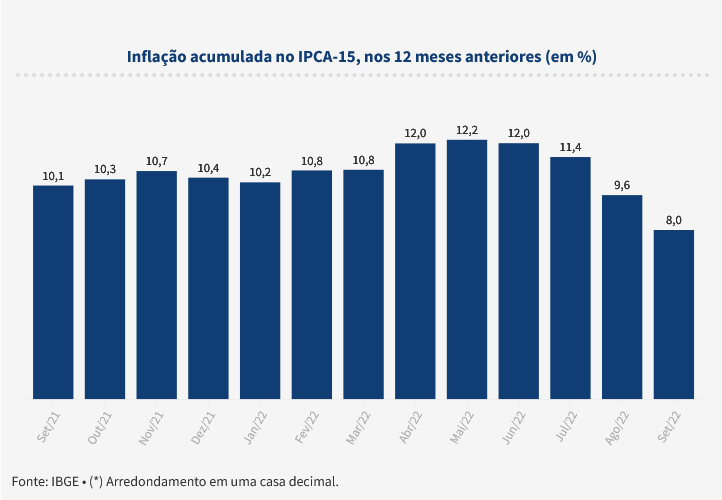 Fuels continue to drive deflation
The fall in inflation in the period was again driven by the reduction in fuel prices, amid the lower price of a barrel of oil on the international scene, which has made Petrobras reduce domestic prices for fuel in the last two months. Since July, there have been four reductions in gasoline and three in diesel at Petrobras refineries.
The "Transport" group, which includes fuel, had a drop of 2.35% in the IPCA-15 of September, having the greatest negative impact on the index (-0.49 pp), according to the IBGE.
the ethanol had a drop of 10.10% in the period;
gasoline dropped 9.78%;
the diesel oil dropped 5.40%.
In the same group, airline tickets rose again (8.20%), after falling by 12.22% in August.
Of the nine groups surveyed by the IPCA, three had a fall in the month and pulled the index down. In addition to Transport, "Communications" (-2.74%) and "Food and Beverages" (-0.47%) fell.
Food has generally fallen in price after months of highs. The group was pulled down by food at home (-0.86%), with emphasis on the fall in milk, which had been the villain of the highs in recent months and fell 12.01% between mid-August and mid-September. . Despite the fall, the price of milk accumulates high of more than 58% this year.
At the other end, six groups in the IPCA-15 were discharged. The largest came from "Clothing" (1.66%) and "Health and personal care" (0.94%).
Source: Exam