Bitcoin: Why the Top Cryptocurrency Is Crashing
The first rule for anyone writing about bitcoin is: don't write about bitcoin.
Cryptocurrency fluctuates too fast and bitcoin fanatics soon complain that you don't understand anything about it.
But you have to write about bitcoins. The last 24 hours have been catastrophic for this cryptocurrency — even by its standards.
I will only talk about bitcoin here — but if you know cryptocurrencies, you know that the entire market is in trouble.
What's happening?
As I write, bitcoin is trading at $21,974. The price has dropped 25% in just the last five days, to its lowest in 18 months. Its peak of almost US$ 70,000, reached in November, seems to be part of the distant past.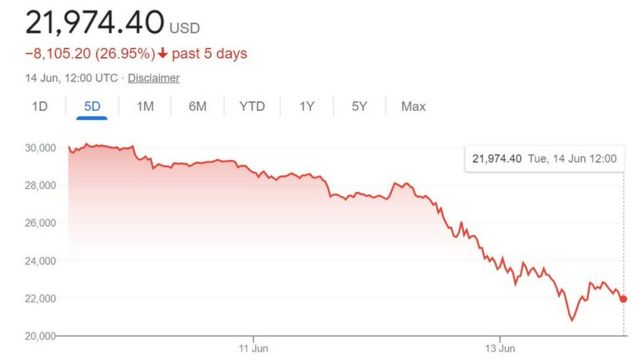 Everything is in the red and the trend is clear: down.
Because?
Experts say this is due to the global economic climate. It is not just in the cryptocurrency world that there are problems.
In many countries, there is an increasing risk of recession, inflation and interest rates are rising and the cost of living is getting worse. Equity markets are also fluctuating, with the US S&P 500 (one of the main US stock market indexes) down (20% below its recent high).
As a result, there are fewer options for investors to invest their money. Furthermore, many ordinary investors—not just wealthy hedge fund owners, but ordinary people as well—have less money to invest in anything.
For many, an investment in something as volatile and unpredictable as cryptocurrency seems like too much of a risk in these times.
Cryptocurrencies are not regulated by financial authorities. If you are using your savings to invest in cryptocurrencies and the price drops or if you lose access to your cryptocurrency wallet, your money is gone.
Because now?
Last month, two lesser-known but still important currencies collapsed — and that knocked a lot of confidence in the market at large.
As a result, many are now selling their cryptocurrencies.
The more people sell, the less bitcoin is worth, because that's how it works — its value is tied to its demand.
Unlike other more traditional assets, bitcoin has no intrinsic value to back it up — there is no physical asset, revenue stream or underlying business behind the coin, says Financial Times markets editor Katie Martin.
"The price is just and purely what people are willing to pay," she says. "That's what's scary, because if enough people abandon the currency, there's no limit to the fall. There is nothing to stop the coin from dropping to $10,000 tomorrow if enough people give up on the coin or are forced to sell."
Bitcoin's prospects were no longer good. And in the last few hours, even worse news has emerged:
Binance, the largest global cryptocurrency exchange (basically a platform for trading cryptocurrencies), has paused all bitcoin withdrawals for a few hours. The exchange said this happened because of a "stuck transaction" — although not everyone believes this version.
Cryptocurrency lender Celsius did the same — but cited "extreme market conditions" rather than technical difficulties. Exchange Coinbase has just announced that it is laying off 18% of its workforce, blaming, in part, what many have called the "crypto winter" — the major crisis in the industry.
Scared investors are selling even more bitcoin
The first two caused panic. Imagine if you suddenly couldn't withdraw money from your bank, or heard that other people can't. You would be at the nearest ATM, along with everyone else, in record time, and that alone would create even more hustle and panic.
What can reverse the crisis?
To stabilize the currency, people who still have bitcoin need to hold it and others would need to start buying it. This has happened in the past.
Cryptocurrency fanatics will tell you that now is a great time to buy because everything is cheap — and you have to sit still and watch the tide turn.
The seductive stories about people who "got rich quick" and celebrity endorsements attract money to this market.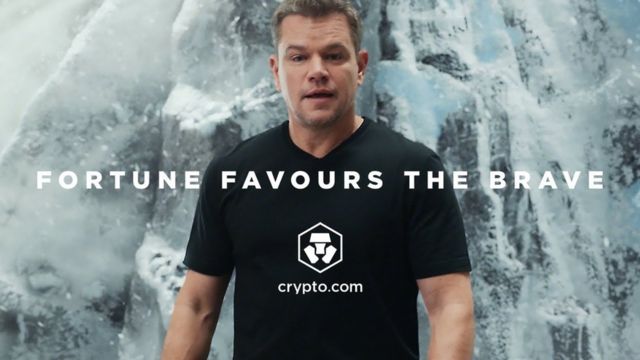 Elon Musk has tweeted a lot about his love for cryptocurrencies — and his electric car company Tesla invested $1.5 billion in bitcoin last year.
But investment advisers urge tremendous caution.
"Honestly, it's a place only the brave should enter," State Street Advisors managing director Altaff Kassam tells BBC Radio 5 Live's Wake Up To Money.
And speaking of brave, Hollywood star Matt Damon appeared in a cryptocurrency advertisement with the slogan "Luck favors the brave", in October 2021. The video was shown at the Super Bowl, the final of the NFL (National Football League). ), the major league in American football, and viewed 28 million times on Twitter and YouTube.
However, the "brave ones" who bought bitcoin when the ad was released would likely disagree with him — bitcoin was then worth about three times as much as it is today.
Source: BBC News Brazil