Award-winning entrepreneur enters two ladies a day available in the market
the administrator Jhenyffer Coutinho dreamed of making a career in a startup or a large company, but never met all the requirements of job vacancies and therefore did not apply. This is an example of what research shows: women only apply when they meet 100% of the vacancy prerequisiteswhile men already apply with 60%.
In the case of the woman from Minas Gerais, who was born in Viçosa, she lacked fluent English, which she sought in an exchange program in the United States. "I could even apply, but look what I did to go after what I lacked. I don't want women to have to go through that."
It made its history a company and, in 2020, received the award of Startup Awards Best Impact Startupthe "Oscar of startups", with the Apply, Woman, which trains women and offers its talent base to companies. Now, with almost 40 partner companies – such as Accenture, Volvo and Ambev – and about 10 thousand women on the platform educational, captured BRL 1.2 million investment and received the award for the third time. "The 1st time, we were a gamble; in the 2nd, an event. Now we are reality."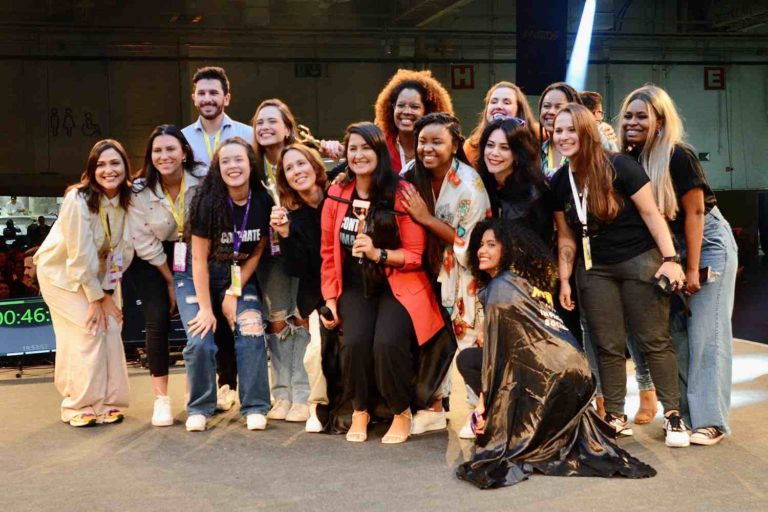 Moov.se
Jhenyffer Coutinho and the Se Candidate, Mulher team at the Startup Awards, taking the impact award for the 3rd consecutive time
From the interior of Minas Gerais to a startup CEO
It was in the US, after being startled by the number of Brazilian women who were unemployed at the beginning of the pandemic – 6.5 million – that she started to put the startup on its feet. "It was a snap. Someone had to do something about it," she says. And what was born as a newsletter to share content and encourage women is today a platform that trains and helps insert female talents into the job market.
Last year, Se Candidate, Mulher inserted or replaced at least one woman in the market every two days. Today, there are at least two a day. "We've already reached the equivalent of 45 classrooms filled with promoted and outplaced women."
Coutinho usually says that it is the result of several wrong stories that worked. Since she was a little girl, she heard that she would have a fate similar to that of her mother, who got pregnant at 13 and dropped out of school. But the entrepreneur turned disrepute into fuel to attend a good college, be the best in her class and live a different reality. "My dream was a salary of R$3,000 and food stamps."
She studied business at UFV (Federal University of Viçosa), worked with entrepreneurship at Sebrae and took over the financial and people areas at ABStartups (Associação Brasileira de Startups), from which she resigned later before going to the United States. "I resigned and said I was going to study English. What few people knew is that I was going to be a nanny to pay for my studies."
Undertaking, which is often synonymous with financial instability, was not an option. But the deal ended up falling into his lap. "In one month, 15,000 women subscribed to the newsletter", she recalls. The growth was organic, only with disclosure on Instagram and LinkedIn. "I came from the world of startups and realized that there was a business opportunity there."
Creating the MVP and scaling the business
Coutinho created a solid community. Women asked to form WhatsApp groups, they wanted curriculum tips, classes on LinkedIn. "I listened to what the customer wanted, but they weren't going to do it for free anymore", she says, and started testing different models in which women paid for the content.
At the same time, her email box was full of big companies, names like Coca-Cola, Sympla, Itaú, who wanted to have access to these women trained by her. "The Movile group, owner of seven large startups, such as iFood, opened the doors for us to validate B2B there." By the end of the year, it had a validated B2C and B2B product. "It managed to serve 1,000 women and had a B2B product with an average ticket of BRL 20,000."
The entrepreneur returned to Brazil in January 2021. "People in the startup ecosystem said 'if you did all this part time, imagine when you dedicate yourself 100% to this business'", she recalls. So, with BRL 9,000 in cash, 3 times more than he had to support himself in São Paulo before the exchange, Coutinho started to develop the first version of the platform to start forming a team. "I had three months to make Se Candidate happen."
Se Candidate, Mulher is divided into an educational part, the SCM Academy, with training courses, and the talent base – made up of women who completed the educational content. They can buy access to the course and companies can buy a combo of accesses to offer their candidates and access the database. "99% of our clients' vacancies are filled in 15 days, while the market closes a vacancy in three months."
Today, B2B accounts for 80% of revenue. And from BRL 500,000 in 2021, she hopes to reach BRL 1.2 million this year.
The investment game for women
Not to mention the investment, which started in October this year. The BRL 1.2 million contribution was made by the Ladies pool of the Bossanova group, by angel investors from Sororitê, created to finance women's businesses, and independent investors. "60% of my round was made by women."
But she also remembers that capital is still very much concentrated in the hands of men. "At first, I thought I was going to convince people with the social impact talk. But then I understood the game and was willing to get into it", says Jhenyffer, who created strategies to do well in this space, such as going to pitches accompanied by male colleagues.
In addition to this contribution, Se Candidate, Mulher won an award of R$ 100,000 to be accelerated by the government of Espírito Santo. The investments will be used to continue developing the business.
The startup will now have a leadership module, much requested by companies, will invest in technology and wants to expand the number of B2B customers and provide more free training for women. In January, the talent base that is left over and not hired by the companies will also be open on the platform. "We are going to invest a lot in technology to scale the business and bring in more women."
Source: Forbes