Agrotools, the big tech of the countryside, is already worth R$ 450 million
When Greenpeace unveiled 'A bovine spree in the Amazon', the iconic — and loud — report that alerted global public opinion to meatpackers' responsibility for deforestation, beef owners weren't sure how to behave. If today there are still gaps in tracking cattle in the forest, in 2009 the situation was much worse. There simply are no good control tools.
Amid efforts by meatpackers to react to the onslaught, which included strong pressure against European retailers that bought Brazilian beef and led to the termination of a US$60 million IFC (World Bank arm) contract with Bertin, a initiative led by Sergio Rocha begins to create the model that made possible the first environmental monitoring of livestock.
A graduate of commodity trading companies, the entrepreneur was already aware of the information and data deficiencies in agribusiness when he was provoked by Abiec – the association that brings together the largest meatpackers in the country – to try to find a solution. "IFC demanded to know the supply chain. We were called together with the biggest and most creative consultancies to avoid a meltdown and we came up with a different concept. Instead of tracking each head of cattle, we can track the territory. Thus, our GeoID was born", recalls Rocha.
When he answered the call, Agrotools was still a two-year-old startup. Since then, the company founded by Rocha not only proved that technology would make a solution possible, but also started to gather customers from the entire chain, including meatpackers, trading companies, banks, brokers and commodity buyers who deal with the final consumer, like McDonald's.
After more than a decade, Agrotools has built a platform that not only attracts large clients, but also gains the attention of seasoned investors. In a transaction about to be concluded, the startup has already raised BRL 80 million, in a round that could still reach BRL 85 million, said Rocha. The startup founders preserved control of the business, keeping 78% of the capital.
In terms of funding, Agrotools is being valued at more than R$ 450 million. The round was led by Inovabra. Bradesco's innovation fund put R$47 million in the closed tranche in December, but the round continued throughout this year and attracted capital from individuals such as Horácio Lafer Piva (Klabin), Pedro Paulo Campos (ex-JP Morgan, Pátria and Arsenal), Fátima Marques (Korn Ferry), Paulo Hegler (Toledo), Olivier Murguet (formerly COO of Nissan-Renault) and Henry James Salomon (BrProp).
"We feel very privileged to have people of this level investing in a technology company and national capital. Olivier, for example, tripled the investment", said Rocha, emphasizing the role of partner Pedro Paulo Campos in Agrotools' fundraising process. Heading the startup's M&A committee, it was the executive who built the "Plan 100", with which the startup prepared to raise R$100 million in equity.
In 15 years down the road, this was only the startup's second round of capital. While showing that the model stood still, building one of the largest agro databases in the world – Agrotools is almost a "big tech of the countryside" –, the company escaped from the classic recipe of startups, avoiding third-party capital. Bootstrapped, the firm only opened up to investors in 2020, when the products had already taken shape and Campos' strategy was underway.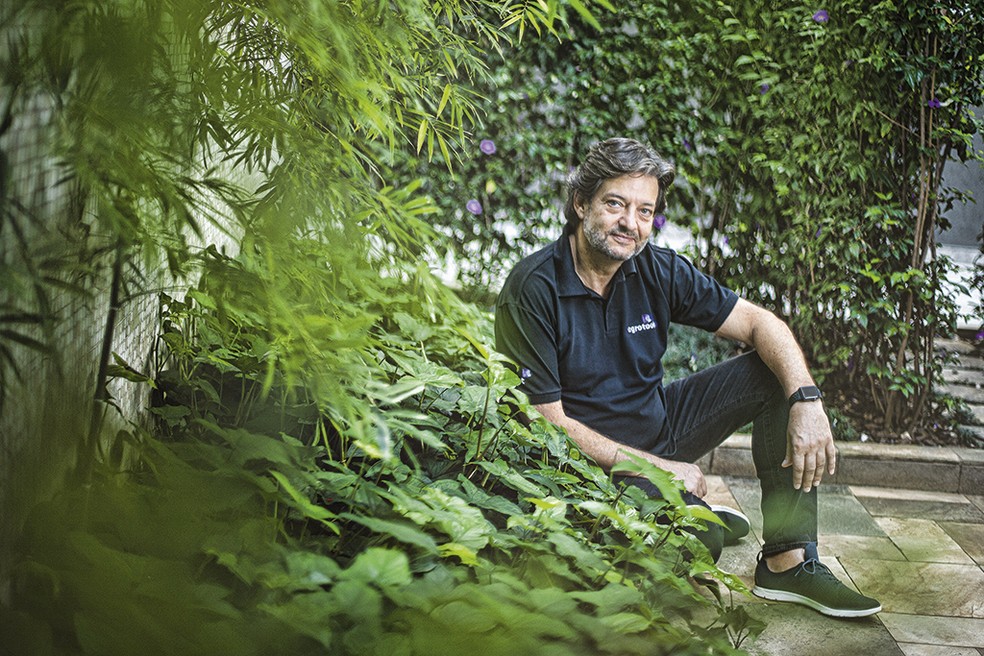 Sergio Rocha, founder of Agrotools — Photo: Disclosure
When it made the first round of BRL 15 million, just under two years ago, the startup raised with KPTL, a venture capital manager led by Renato Ramalho that manages BRL 1.2 billion. "Agrotools is a unique asset, which has gathered more than 1,300 layers of information", said the manager. KPLT also followed the round, now led by Inovabra.
With a turnover of BRL 15.1 million in 2020 – the balance for the last year has not yet been released – Agrotools has already contracted a turnover of BRL 130 million, said the founder. "We have contracts for four to six years, with recurring revenue," said Rocha.
After the investments, Agrotools has been accelerating growth, which includes internationalization – the startup is already in Argentina, Paraguay and Australia – and a bet on a model for selling technological services to small and medium-sized companies and other agtechs. In practice, the startup provides APIs so that smaller customers such as Dona Raimunda, a small meatpacking plant in Amazonas, can integrate and also carry out socio-environmental monitoring of livestock.
There are also APIs that make life easier for fintechs that want to offer credit in agribusiness, with technologies that help monitor the weather to estimate the harvest. Sold separately, APIS for small and medium-sized companies means expanding the scope of Agrotools, which has become notable for data and insights from its proprietary technology to large corporations.
In addition to the socio-environmental monitoring system that made it known, Agrotools already has an infinity of data that helped it offer other products, such as a credit mat for banks and insurance companies, and insights into the territory that help meatpackers to estimate market share. slaughterhouses and trading companies and calculate the share in grain origination in a given polygon.
"When the agfintechs race started, everyone said that we should be, but our business is not to be the Nubank of agro. We are a platform that takes technology and data to a very underserved sector. We are going to sell the shovel and the technological pick", summarizes the founder of Agrotools.
Source: Value Pipeline