4 out of 10 Brazilian households had been unable to pay all their payments between April and June
86% of households surveyed by the Consumer Pulse survey plan to change what and how much they buy because of inflation.
While 8 out of 10 Brazilian families were concerned about their ability to pay bills and loans in full, 41% actually failed to pay all debts and bills and left at least one financial commitment behind. The credit card bill was what most worried the respondents.
The data refer to the second quarter of the year, between April and June, and were collected by the Consumer Pulse survey, carried out by the information company TransUnion.
Among respondents, 79% said they were concerned about the impact of inflation on their financial lives. And a little more, 86%, intended to change what and how much they buy because of it.
In addition to rising prices, many families suffered a loss of income in the last quarter. Nearly 4 out of 10 households now have less money than they had, mainly because of job losses or reduced wages.
Brazilians were worried about the almost uninterrupted rise in prices and did not know what to expect in the future. Before July, when the Broad Consumer Price Index (IPCA) dropped 0.68% in July, Brazil had experienced 25 straight months of high prices. Despite the truce last month, it has been 11 months in a row with annual inflation running above double digits.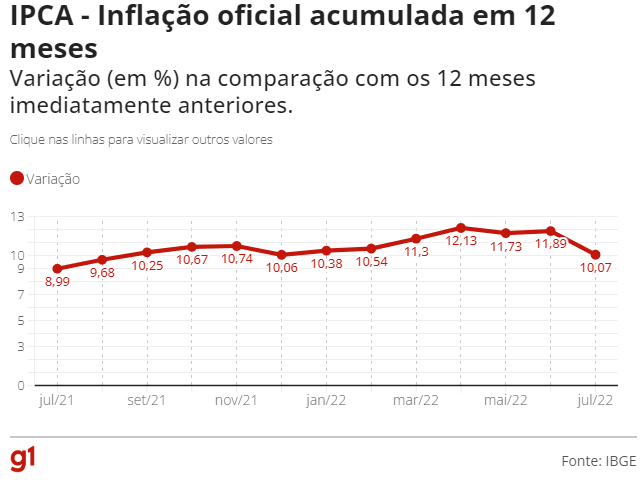 "Brazilians' concern with inflation is immediately reflected in the population's financial life. Since the beginning of 2022, this has been the main complaint regarding finances. It's difficult to plan when you don't know what the inflation rate will be over the next few days", says Claudio Pasqualin, Vice President of Solutions at TransUnion Brasil.
shopping behavior
To try to minimize the impact of inflation on the budget, 57% of respondents intended to reduce their extra expenses (such as food away from home, travel and entertainment). And 24% had already reduced or canceled digital services.
For the current quarter, 39% wanted to control debt, extra spending and big purchases like cars and appliances, and 38% wanted to reduce retail expenses like clothing and electronics.
The survey also asked how people make purchases or other business transactions. 43% responded that they perform more than half online. And 27% have been targeted or victims of digital fraud recently.
Despite economic pressures, 73% indicated they are optimistic about the future of their finances in the next 12 months. The Consumer Pulse Study for the second quarter of 2022 was based on a survey of 1,013 Brazilian adults, carried out between May 26 and June 03, 2022.
Source: G1